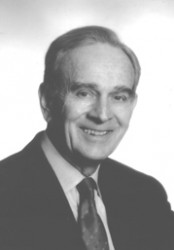 James Autry
CONTACT: Lisa Lacher, 515-271-3119, lisa.lacher@drake.edu
Approximately 650 seniors will be honored at Drake's 126th Undergraduate Commencement Ceremony at 10 a.m. Saturday, May 12, at the Drake Knapp Center, 2525 Forest Ave.
A highlight of the ceremony will be the presentation of an honorary Doctor of Humane Letters degree to renowned author and retired Meredith Corp. executive James Autry. He will address the graduates as will Drake President David Maxwell and Jenna Wilcox, recipient of the University's Oreon E. Scott Award for the most outstanding senior.
Autry, a retired senior vice president of Meredith Corp., is regarded as one of the most successful and respected magazine publishing executives in the nation. He also is an award-winning author whose collection of essays and poetry, "Love and Profit: The Art of Caring Leadership," won the prestigious Johnson Smith and Knisley Award in 1992 and has been published in a multitude of languages including Japanese, Swedish, Chinese, Spanish and Russian.

An active member of numerous civic and charitable organizations, Autry currently serves as senior vice president of the Epilepsy Foundation of America. He has also served as the foundation's president, chairman and chairman emeritus.
Autry is the founding chair of the Claremont Graduate University's Humanities Center Board of Visitors and a member of the professional advisory committee to the Department of Journalism at the University of Mississippi. In addition, Autry has served as president of the Des Moines Symphony Association and co-founded the Des Moines National Poetry Festival in 1990.
Autry served on the corporate advisory board of the College of Liberal Arts and Sciences at Drake University and as chairman of the professional advisory committee of the College of Home Economics at Iowa State University. He was appointed by President Carter in 1979 to serve on the national advisory committee for the White House Conference on Families and led the Institute for the Advancement of Health in the mid-80s.