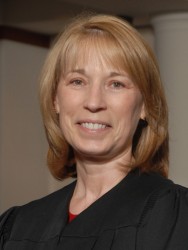 Iowa Supreme Court Chief Justice Marsha K. Ternus
CONTACT: Lisa Lacher, 515-271-3119, lisa.lacher@drake.edu
Iowa Supreme Court Chief Justice Marsha K. Ternus will return to her alma mater to give the commencement address at Drake Law School's 126th commencement ceremony at 7 p.m. Friday, May 11, at the Drake Knapp Center. Her address is titled "A Life That's Full."
Approximately 160 law students will be honored at the ceremony, which will be preceded at 6:45 p.m. by a formal procession of law students and faculty wearing academic regalia to the Drake Knapp Center from Opperman Hall and Library, 2615 Carpenter Ave.
Chief Justice Ternus was appointed by Gov. Terry Branstad to the Iowa Supreme Court on July 28, 1993. Thirteen years later, in September 2006, she was elected by fellow members of the Supreme Court to succeed Drake Law School alumnus Louis A. Lavorato as the Court's next chief justice and Iowa's first female chief justice.
A native of Vinton, Iowa, Chief Justice Ternus earned her bachelor's degree with honors and high distinction from the University of Iowa in 1972, where she was elected to Phi Beta Kappa. She received her Juris Doctor degree in 1977, with honors, from Drake Law School and was elected to The Order of the Coif, the national, law school scholastic honor society. At the Law School, among other distinctions, she was the editor in chief of the Drake Law Review.
Prior to joining the Court, Chief Justice Ternus practiced law and was a partner in the firm of Bradshaw, Fowler, Proctor and Fairgrave in Des Moines, where she specialized in trial and appellate practice. She served as president of the Polk County Bar Association and was a member of the Board of Governors of the Iowa State Bar Association, the Board of Directors of the Legal Aid Society of Polk County and the Iowa Supreme Court Jury Instructions Committee.
At Drake, she was a member of and served as president of the Law School's advisory board, the Board of Counselors. She also was a member of the Task Force on the Law School for the National Commission on the Future of Drake University in 1987-88 and chaired the Task Force for the Law School for the National Commission II during 1993-94. In 1996 the Law School Board of Counselors selected her to receive the Law School Alumni of the Year Award.
During her tenure on the Court, Chief Justice Ternus has been involved in a number of court initiatives and other efforts to improve the administration of justice. She served on the Steering Committee of the Iowa Supreme Court Commission on Planning for the 21st Century and the judicial team that oversaw the design, development and construction of the Judicial Branch Building; and she has headed the Supreme Court's child welfare initiative. Chief Justice Ternus also served as a member of the Multi-State Performance Test Policy Committee for the National Conference of Bar Examiners.