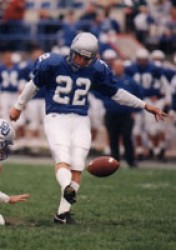 Billy Cundiff
Former Drake standout kicker Billy Cundiff signed a one-year contract with the Atlanta Falcons Friday.
Cundiff, who set 15 school records and seven Pioneer Football League marks during his career at Drake from 1998-2001, was an unrestricted free agent after finishing his fifth year in the National Football League. He visited the New York Giants earlier in the week before opting to sign with the Falcons.
The Harlan, Iowa, native played in five games for New Orleans in 2006. He was signed to the Saints roster on Nov. 24 and handled kickoff duties in five of the final six regular season games.
In 58 career games in the NFL, Cundiff has made 60-of-83 field goal attempts and 100-of-101 extra point tries.
Cundiff came into the league as an undrafted free agent in 2002 making the Dallas Cowboys roster.
With the Cowboys, he made an NFL record-tying seven field goals in Bill Parcells' first victory as the Dallas head coach in a 35-32 Monday Night Football victory over the N.Y. Giants on Sept. 15, 2003.
In 2005, Cundiff set a Dallas record with a 56-yard field goal just prior to halftime against Detroit on Nov. 20.
During his career at Drake, Cundiff made eight field goals of 50 yards or longer, including a 62-yarder (second-longest in Division I-AA history) against San Diego as a junior in 2000.