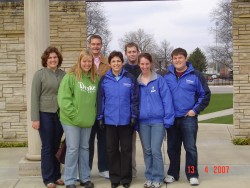 Diane Caldbeck, ED'72, Drake's associate vice president for alumni and development, recently shared information and insights on a campus tour with members of Future Alumni Network (FAN), the University's student-alumni organization.
Front row: Laura Schraeder, a senior journalism major; Sarah Tangerstrom, a junior business major; Caldbeck; Erin Anderson, a junior arts and sciences major; and Tony Tandeski, a junior journalism major.
Back row: Adam Kaduce, a sophomore business major, and Andrew Reno, a sophomore business major.