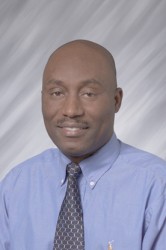 Jimmy Senteza
Jimmy Senteza, Drake associate professor of finance, knows first-hand the growing pains felt by a developing economy. As a child in Uganda, he witnessed pitfalls of past regimes and has watched the current government's gradual progress to improve people's living standards over the last 20-plus years.
Later this month, Senteza will team up with Drake faculty members Deb Bishop, assistant professor of information systems, Thomas Root, associate professor of finance, and Glenn McKnight, associate professor of history, who studied in Uganda for a year while completing his doctoral dissertation on development policy in colonial Uganda. They will accompany 21 students on Drake's first travel seminar to Kampala, Uganda. Senteza and McKnight drew on their connections in Uganda to help establish the seminar.
"We think it is a very unique and exciting opportunity for students. It undoubtedly will be an invaluable eye-opener for anyone with limited working knowledge of Sub-Saharan Africa," Senteza said.
Interest in the trip was spurred by the popular Oscar-winning movie "The Last King of Scotland," which depicts how badly things can go when a fanatic rules a country. Senteza hopes that current and future Ugandan leadership is reminded about the dangers of absolute power as it was during Idi Amin's failed legacy.
In partnership with colleagues at Makerere University Business School (MUBS) in Kampala, faculty and students will spend 22 days exploring a wide variety of subjects related to sustainable development, including the legacy of colonialism, HIV/AIDS in Africa, availability and constraints of micro-finance, tourism as a sustainable industry and tribalism and democratization. Drake recently hosted delegates from MUBS for 10 days on campus to further fortify the two institutions' budding exchange program.
Travel seminar participants will visit the source of the Nile River, a peasant shamba in rural Uganda, Kasubi tombs, the Queen Elizabeth National Park, urban markets and various NGOs, government offices and small businesses. In addition, participants will attend lectures by Ugandan experts and engage in directed readings, research and discussions and keep reflective journals. Potential speakers include members of Parliament, current presidential advisors, MUBS professors and accomplished businessmen and executives.