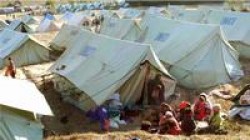 Paul Webering, AS'06, is directing the first Iowa Corridor Hike to Help Refugees, which will raise funds to provide family-sized tents for refugees in Afghanistan and Darfur.
The hike will take place Saturday, May 19. Participants will hike 8.5 miles along a trail from North Liberty, Iowa, to Iowa City's City Park, where they will be greeted with music from local bands New Beat Society and Public Property, food and speeches from local activists. To register, hikers must pledge to raise $80 — 100 percent of which will be used to provide one family-sized tent for refugees.
Donations will be distributed through the United Nation's High Commission for Refugees, which provides basic needs for more than 21 million refugees.
"It's easy to feel helpless in the face of the complex international relationships that lead to war and genocide, to feel that you are powerless to help the innocent who suffer," Webering said when he returned recently to Drake to encourage students to join or support his efforts. "The Hike to Help Refugees creates the perfect opportunity for an average American to take steps to make a refugee's road a little shorter."
As a Drake student, Webering played varsity football and studied law, politics and society and environmental policy. He began planning the Iowa Corridor Hike to Help Refugees upon moving to Iowa City last fall to begin an Americorps VISTA position with Iowa Valley's Habitat for Humanity. Over the past eight months with AmeriCorps, Webering has also helped defer more than 40 tons of material from Iowa City landfills by managing the Habitat for Humanity ReStore, built five homes for the needy and created a new internship program set to launch May 7 that is federally funded for at-risk youth.
"The education, relationships and confidence I received at Drake have put me where I am today," Webering said.
The Iowa Corridor Hike to Help Refugees will start at the North Liberty Community Center with a brief ceremony and will end at City Park's Riverside Festival Theatre in Iowa City. A free continuous shuttle will be available to bring hikers back to their vehicles in North Liberty.
In addition, Webering is making a serious effort to make the hike a "green" event. "We're planning to use cups, plates and cutlery made with PLA plastics, which biodegrade within 45 days of entering the environment," Webering said. "And we are exploring other avenues to minimize the hike's ecological impact."
For more information or to sign up for the Hike to Help Refugees, visit www.hiketohelprefugees.org or e-mail iowacorridor@hiketohelprefugees.org. For more information about UNHCR, visit www.unhcr.org.