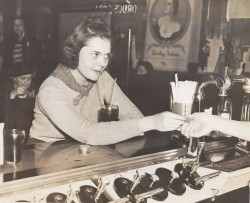 Marie Wissler, 1940
Once upon a time, Drake students could go out for dinner, a dance and a movie for a dollar per person. Female students wore hats, gloves and heels to class. Residence halls had a 10 p.m. curfew, bridge was the hot game in the student union and students established lasting friendships with each other and with their faculty — just like at Drake today.
Just in time for the influx of alumni and visitors on campus for the Drake Relays, Cowles Library launched a new digital collection, called "What a Time We Had…Women Remember Drake," as part of the Drake Digital Heritage Collection.
Nearly 25 women gathered for tea at Cowles Library on April 24 to celebrate the completion of the oral history project, which features interviews that reflect on a collective history that spans more than 65 years — from Jane Alexander, a 1933 Drake graduate, to Lisa Brinkmeyer, a 1998 Drake graduate and member of the women's basketball team.
"This was an incredible undertaking," said Tracy Codel, a 1986 Drake graduate. "The project will be something to bring alumni to the Web site to make a connection with the stories of other alumni."
In addition, memorabilia and vintage photos of women at Drake are on display in the James M. Collier Heritage Room and various display cases throughout Cowles Library.
"The outcome of this project has surpassed all of our expectations," said project coordinator Claudia Frazer. "It was a special experience of sharing I will never forget."
The digital collection is available at www.lib.drake.edu/heritage.