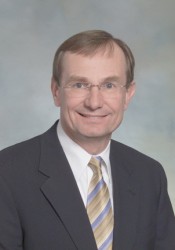 Dr. Lon Larson, PH'71
Larson's cancer inspires bone marrow registry drive
Pharmacy students, staff and faculty have rallied behind popular professor Lon Larson, PH'71, professor of pharmacy administration, with an outpouring of support since he was diagnosed last fall with a rare, aggressive type of cancer called mantle cell lymphoma in its final stage.
In addition to the deluge of kind words, cards, balloons and baked goods sent from alumni, faculty, staff and students to Larson and his wife, Linda Krypel, PH'74, associate professor of pharmacy, students have set their Drake pharmacy education in motion.
Pharmacy honor society Rho Chi recently conducted a bone marrow registry drive in honor of Larson. The drive prompted 124 members of the campus community to get their cheeks swabbed to join the national bone marrow registry.
"It's a testament not only to Dr. Larson but to the students and what they gain here at Drake," said Raylene Rospond, dean of the College of Pharmacy and Health Sciences.

The registry improves odds for cancer patients who need a bone marrow transplant. Tissue matches are first searched for among a patient's family, then among similar ethnic backgrounds and finally by checking on the general registry. Six million Americans are registered.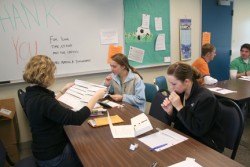 Students swab their cheeks and fill out paperwork to join the national bone marrow registry.
Larson and Krypel were unable to attend the drive because they were in Omaha for chemotherapy and a reinfusion of Larson's stem cells.
"I'm really pleased with the support that the whole Drake community has put together for Dr. Larson," said Stefanie Nyman, president of Rho Chi. "At the bone marrow registry there were lots of students and faculty, which was great to see . . . and even people from the Des Moines community, which was amazing."
Earlier this semester, students also participated in Drake's Relay for Life, a 12-hour walk that drew 700 participants and generated approximately $30,000 for cancer research and treatment. Third-year pharmacy students organized and filled two teams, "P3s for Larson" and "P3s for Larson Continued," and sold lime green t-shirts bearing Larson's photo.
A longtime professor at Drake, Larson is renowned for his concern for students and his open-door policy. He won Drake's Pharmacy Teacher of the Year Award twice and received the University's Mentor of the Year Award.
"Teaching extends beyond the classroom," Larson says on his Drake faculty Web page. A stronger testament to his success would be difficult to find.