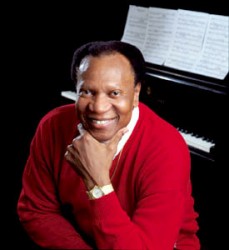 Simon Estes
CONTACT: Ray Pugh, 515-278-6902; Mark Baldwin, 515-251-6370;

Katie Knorovsky, 515-271-1834, katie.knorovsky@drake.edu
World-renowned opera singer Simon Estes will share life experiences and insights at the 13th annual Ray Pugh Institute of New Hope on Sunday, May 20. The presentation, which is free and open to the public, will start at 6 p.m. in the New Hope United Methodist Church Family Life Center, 4525 Beaver Ave.
Estes received an honorary Doctor of Humane Letters from Drake in 1994. In 1996, Estes received the Iowan Award, which is the state's highest honor and has been awarded only 13 times since its inception more than 40 years ago. He will share highlights from his life in the public eye.
Recent presenters at the Ray Pugh Institute of New Hope include former Iowa Gov. Robert Ray, former Iran hostage Thomas Sutherland, former Drake women's basketball coach Lisa Stone and Des Moines obstetrician Dr. Paula Mahone.