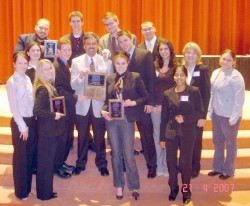 Left to right: John Flowers, Johnny Craig, Matt Szatkowski, Nicholas McGahan. Middle Row: Erin Ryan, Phillip Gaynor, John McCormick, Zach Miller, Melisa Jukic, Eleanor Zeff, Ashlee Voboril. Liana Kruce, Charvel Moltzan, Maria Cosma, Kashmira Chawla.
CONTACT: Professor Eleanor Zeff, 515-271-2102, eleanor.zeff@drake.edu;

Katie Knorovsky, 515-271-1834, katie.knorovsky@drake.edu
Student teams from Drake earned three first-place awards at the recent Midwest Model European Union Simulation in Indianapolis. Accompanied by Eleanor Zeff, Drake associate professor of politics and international relations, 13 Drake students participated in the event, which involved three days of discussions and negotiations with more than 150 students from 11 Midwest universities. Drake also received the Best Delegation award and brought home the winning plaque to display on Drake's campus for the year.
Students who won first place were Maria Cosma, a junior from Des Moines who participated as the prime minister of Hungary; John Flowers, a junior from Des Moines who participated as the environmental minister of Hungary; and Charval Moltzan, a junior from Columbia, Mo., who participated as foreign minister of Hungary.
"The experience was a really great way to practically apply the facts and theories that we are learning about in our study of the European Union in a fun and interactive environment," Moltzan said. "Winning was definitely unexpected, because there were so many really great students there. I think it came down to expressing ideas while at the same time uniting people."
Drake entered two teams in the April 19-22 simulation, representing Hungary and Sweden. In addition to Cosma, Flowers and Moltzan, other Drake participants were Kashmira Chawla, a sophomore from Urbandale; Johnny Craig, a first-year student from Waterloo, Iowa; Phillip Gaynor, a sophomore from Arlington Heights; Melisa Jukic, a sophomore from Des Moines; Liana Kruce, a junior from Indianola; Nicholas McGahan, a first-year student from Des Plaines, Ill.; Zach Miller, a sophomore from Carlisle, Iowa; Erin Ryan, a sophomore from Chicago; Matt Szatkowski, a senior from West Des Moines; and Ashlee Voboril, a first-year student from Des Moines.
"These awards represent outstanding individual and team efforts," Zeff said. "We were all very excited to win the Best Delegation award, and the students were especially proud to win the award for Drake University."
The EU-Midwest is one of only four events of its kind in the United States. Founded in 1993 and hosted by the Indianapolis campus of Indiana University, it is designed to help college and university students learn about the workings of the European Union through a hands-on simulation. The simulations offer active learning environments where students can also internationalize their perspectives on world events and organizations.
The students from across the region met in formal and informal sessions as the European Council, the European Commission and several different councils of ministers. From Thursday afternoon through Saturday afternoon, students introduced, discussed and reached decisions on EU policy. National leaders provided overall direction while ministers huddled to work out the details of policy. Meanwhile, commissioners and their directors worked to give new direction to foreign and security policy, the single market and other important issues.
Though the real EU often equivocates, past meetings of EU-Midwest have reformed the institutional structure of the EU, expanded EU membership to Eastern Europe, taken decisive action over the Balkans and made major reforms to the Common Agricultural Policy.
The Drake contingent was funded by Drake's Center for Global Citizenship and individual alumni donations.