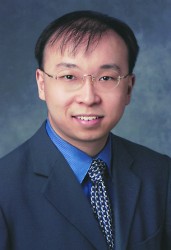 Peter Yu
CONTACT: Katie Knorovsky, 515-271-1834, katie.knorovsky@drake.edu
Peter Yu, associate professor of law and the founding director of the nationally ranked Intellectual Property and Communications Law Program at Michigan State University College of Law, has been named the inaugural Kern Family chair in intellectual property law and director of the Intellectual Property Law Center at Drake University Law School.
"Peter is an outstanding scholar and teacher, well known nationally and internationally," said David Walker, dean of Drake Law School. "He has built two nationally ranked intellectual property law programs, and he shares our vision for a program at Drake that will not only provide an enhanced curriculum in IP but also extend our reach to the international community on cutting edge issues of IP, especially biotechnology. We are delighted to have attracted him to Drake Law School."
Yu, who will join Drake this summer, holds appointments in the Asian Studies Center and the Department of Telecommunication, Information Studies and Media at Michigan State University. He is also a research fellow of the Center for Studies of Intellectual Property Rights at Zhongnan University of Economics and Law in Wuhan, China. Before joining Michigan State, he was the executive director of the nationally ranked Intellectual Property Law Program at Benjamin N.Cardozo School of Law at Yeshiva University.
Born and raised in Hong Kong, Yu is a leading expert in international intellectual property and communications law. He also writes and lectures extensively on international trade, international and comparative law, and the transition of the legal systems in China and Hong Kong. His lectures and presentations have spanned more than 10 countries on four continents, and he is a frequent commentator in the national and international media. His books include the forthcoming "Global Issues in Intellectual Property Law" as well as "Intellectual Property and Informational Wealth: Issues and Practices in the Digital Age."
"I am very excited about joining Drake Law School," Yu said. "Intellectual property is one of the most fascinating areas in today's legal field. I cannot think of a better place to launch a new global interdisciplinary center for intellectual property law."
Yu's position was made possible by an endowment gift of $1.5 million from Wayne and Donna Kern of Dallas, Texas. Wayne is a 1972 graduate of Drake Law School and was the former senior vice president for Heritage Communications Inc., before going on to a career in business, mergers and acquisitions. Donna is a retired physician.
Development of a program in intellectual property law at Drake, with an enhanced curriculum and emphasis on biotechnology and the agricultural sciences, is being aided by a $750,000 leadership commitment from Pioneer Hi-Bred International Inc., a subsidiary of DuPont. The dynamic new program will also feature a summer institute designed to draw both students and lawyers from foreign countries as well as the United States to Drake for sessions on intellectual property law. The first of these institutes is planned for summer 2008.
Additional information about Yu and his publications is available at www.peteryu.com.