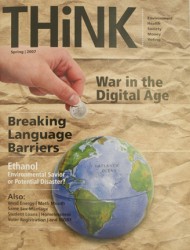 CONTACT: Katie Knorovsky, 515-271-1834, katie.knorovsky@drake.edu
Senior magazine and news-Internet students in Drake University's School of Journalism and Mass Communication (SJMC), joined forces this spring to create THiNK magazine, an environmentally friendly news publication focusing on topics aimed at socially conscious "20-something" Iowans. Articles examine subjects such as the use of technology in war, stem cell research and the ethanol debate, among others, intended to inspire interest and action in the political process.
The magazine will hit Des Moines' streets with a free, public launch party at 5 p.m. Wednesday, May 2, at the Drake neighborhood's Mars Cafe, 2318 University Ave. Mars Cafe will offer happy hour prices and $1 off all coffee and tea drinks to party guests.
The inaugural issue celebrates the collaboration of both journalism disciplines and the first student-led initiative for an environmentally sound publication. Hannah Hacker, THiNK production manager and dual news-Internet and environmental policy major, headed up the effort to keep THiNK magazine eco-friendly.
"The chance to add green to THiNK furthered my passion to increase awareness among the public that small changes are effective," Hacker said.
With support from THiNK publishers and SJMC professors Patricia Prijatel and Jill Van Wyke, Hacker conducted research to discover environmentally conscious production techniques that can be used without sacrificing quality. The magazine's staff is proud of the publication's small environmental footprint — from the origins of paper stock and chemicals released into the air to different types of ink and cover varnish.
Eco-friendly elements of THiNK include the following:
• Printed on certified stock by the Forest Stewardship Council, which ensures logging practices are used that protect biological diversity and decreases damages to primary processes to reduce erosion rates and water contamination.

• Paper is 10 percent post-consumer waste, which includes wood fibers from reclaimed paper products.

• Printed at Litho Inc. in St. Paul, Minn., using waterless printing. This process eliminates the need for dampening-related volatile organic compounds because it does not use any fountain solutions or chemicals to accelerate the drying process.

• Coating on the cover is a water-based coating instead of varnish or UV coating, which makes the magazine easy to recycle and re-pulp for reuse.
Copies of the free publication will be distributed to Des Moines area businesses and organizations, including those featured in the magazine.