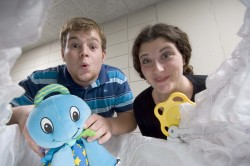 Adam Sandroni, a junior from Granger, Ind., and Melissa Rutman, a senior from Crystal, Minn., star as new parents John and Helen in Drake Theatre's production of "Baby with the Bathwater."
CONTACT: Katie Knorovsky, 515-271-1834, katie.knorovsky@drake.edu
Drake University Theatre will present "Baby with the Bathwater," an outlandish comedy written by Christopher Durang, co-chair of the Playwriting Program at Juilliard School, and directed by Michael A. Rothmayer, Drake assistant professor of theatre arts.
Performances are at 8 p.m. April 26, 27 and 28 and at 2 p.m. April 28 and 29 in Drake's Studio Theatre, Harmon Fine Arts Center, 25th Street and Carpenter Avenue. Admission is $5 for the general public, $3 for students and senior citizens and $1 with a Drake ID. Tickets are available at the Drake Fine Arts Box Office, 515-271-3841.
"Baby with the Bathwater" chronicles the adventures of first-time parents John and Helen. Despite their enthusiasm, the new parents seem to struggle with every aspect of parenthood — from deciding how to hold the newborn to simply determining the child's sex.
The child's life is forever warped by the decisions made by his (or her) parents and the outrageous nanny who mysteriously arrives in the midst of the parenting chaos. The family must face some of life's toughest challenges, including a vicious dog, killer buses, never-ending therapy, infidelity, alcohol abuse, Nyquil abuse, depression, college and a gender identity crisis.
Durang holds a B.A. in English from Harvard College and an M.F.A. from the Yale School of Drama. His plays include "Sister Mary Ignatius Explains It All for You," "Laughing Wild," "The Marriage of Betty and Boo," "Mrs. Bob Cratchits' Wild Christmas Bing" and many others, including more than 40 one-act plays. Durang wrote the book for the musical "A History of the American Film," for which he earned a Tony Award nomination. He was also a finalist for the Pulitzer Prize in 2006 for "Miss Witherspoon."
The play contains adult situations not intended for children and is produced by special arrangement with Dramatists Play Service Inc.