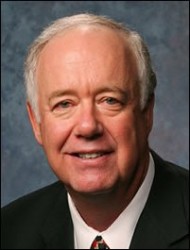 J. Barry Griswell
CONTACT: Katie Knorovsky, 515-271-1834, katie.knorovsky@drake.edu
Drake University's College of Business and Public Administration presented the college's Community Leadership Award to J. Barry Griswell, chairman and CEO of Principal Financial Group. Griswell accepted the award at Drake's annual Business Day Banquet April 11.
"When the CBPA created this award, it was with CEOs like Barry Griswell in mind," said Charlie Edwards, dean of Drake's College of Business and Public Administration. "We are fortunate to have such outstanding leaders in our community who not only represent successful companies, but also stand out as philanthropists and volunteers. It is important that we highlight these individuals and introduce them to our students as role models."
Griswell oversees company strategy, mergers and acquisitions and corporate functions at Principal. He joined the company in 1988 as an officer and agency vice president and became senior vice president in 1991 and executive vice president in 1996. He was named president in 1998, CEO in 2000 and chairman of the board in 2002.
Griswell is active in a number of industry and community organizations. He serves on the governing boards for the American Council of Life Insurers, the American Council for Capital Formation, The Business Roundtable, the S.S. Huebner Foundation for Insurance Education, Central College in Pella, Iowa, and Berry College in Rome, Ga. He is also director of the Business Committee for the Arts, president of the Federation of Iowa Insurers and chair of the Greater Des Moines Partnership.
Under Griswell's leadership, the Principal Financial Group received United Way of America's Spirit of America award for corporate community involvement in May 2006. In addition, Griswell was named one of the "100 Best Corporate Citizens" for 2006 by Business Ethics Magazine.
Griswell and his wife, Michele, have been financial supporters of many organizations, including United Way, Berry College, Central College and Drake University.
A native of Georgia, Griswell received his bachelor's degree from Berry College in Rome, Ga., and his master's degree from Stetson University in Deland, Fla.
The Community Leadership Award was created by the College of Business and Public Administration at Drake to recognize an individual who has made an impact in the community through their business and individual generosity. The individual must have a record of impact to the community through their personal philanthropy and volunteer service and be affiliated with a business that has made a significant contribution to the Des Moines community.