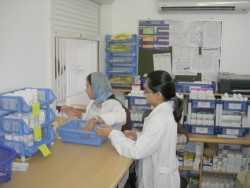 Pharmacists dispense HIV/AIDS medication at the Sinikithemba Clinic at the McCord Hospital in Durban, South Africa.
CONTACT: Gretchen Olson, Drake Director of International Programs and Services, 515-271-2084, Gretchen.olson@drake.edu;

Katie Knorovsky, 515-271-1834, katie.knorovsky@drake.edu
International opportunities at Drake University recently expanded with the establishment of Drake's first official study abroad exchange in the southern hemisphere. Three Drake officials traveled to South Africa over spring break to formalize a partnership with the University of KwaZulu-Natal (UKZN) in Durban.
Representing Drake were Gretchen Olson, director of international programs and services, Rahul Parsa, professor of actuarial science, and John Rovers, associate professor of pharmacy and health sciences. They signed an agreement with UKZN officials that will allow undergraduates from the two universities to exchange places for one semester or academic year, effective spring 2008. A five-week summer program will be available for students interested in studying South African history and culture, the Zulu language and culture, and participating in service learning.
In addition, sixth-year pharmacy students — who are in their fourth professional year — will have the option of completing a portion of their clinical training in Durban at King Edward Hospital, McCord Hospital or The Center for AIDS Programme of Research in South Africa (CAPRISA).
Natalie Bainbridge, a sixth-year pharmacy student from Carthage, Ill., completed the debut South African rotation last fall and provided feedback to Drake faculty that was used to develop the program.
"I had an amazing experience," Bainbridge said. "It's a completely different world. Here, people hear a lot about HIV/AIDS, but it's a distant problem — not up-close-and-personal as it is in Africa. It really provided me with a perspective on what the HIV/AIDS epidemic means in other places."
UKZN has a multi-ethnic student body of more than 35,000 students and is comprised of several well-known institutions that joined forces in 2004 — University of Durban-Westville, University of Natal, Nelson Mandela School of Medicine and the University of Pietermaritzburg. The partnership with Drake reflects that of similar relationships UKZN has with other American schools such as Columbia University Medical School, Harvard University and the University of California system. Drake's interest in the university began after Parsa taught there as a Fulbright scholar in 2004.
"This exchange will be a really eye-opening experience for our students — the kind that can change lives," said Olson. "And we are equally excited about having South African students at Drake."
Two pharmacy students, Anna Pederson and Liz Jones, plan to spend a rotation in Durban next fall.