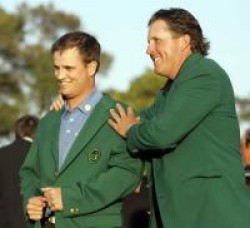 Zach Johnson was fitted for the fabled green jacket by 2006 champion Phil Mickelson.
On golf's biggest stage, former Drake standout Zach Johnson saved the best for last and was rewarded with the coveted Green Jacket.
Johnson, a 1998 graduate of Drake and native of Cedar Rapids, Iowa, played the round of his life at Augusta National Golf Club shooting a final round three-under-par 69 for a 289 total and a two-shot victory in the Masters Sunday.
Challenged by some of the game's greatest champions, among them four-time winner Tiger Woods and two-time U.S. Open champion Retief Goosen, Johnson had three birdies in a four-hole stretch along the back nine to pull away. Woods and Goosen had won a combined 14 majors.
"This is very surreal, very surreal," said Johnson, who led Drake to the 1997 and 1998 Missouri Valley Conference team championships as well as berths in the 1996, 1997 and 1998 NCAA Regionals. "I've dreamed about this for years."
Johnson, 31, was fitted for the fabled green jacket by 2006 champion Phil Mickelson in legendary Butler Cabin.
"I feel like — I feel like professionally, I'm where I need to be," Johnson said. "I'm playing a game for a living, more importantly and comparing myself to the — arguably the most phenomenal athlete, especially in golf, that the world has ever seen is, I don't know, maybe a little bit misleading.
"At the same time, I feel like I've been blessed and I'm good enough to take home a green jacket and that's what I was trying to tell myself the entire time, and fortunately it went in my favor."
It was a stunning performance by Johnson, who repeated an earlier Georgia success with his only other PGA Tour victory in 2004 at the BellSouth Classic in Atlanta.
Johnson took the lead alone for the first time with a birdie at the 13th hole. He laid up his second shot on the par 5 hole, hit an approach in ideal position, and made a 10-foot putt.
"I did not go for any (par-5) green in two this week," Johnson said. "I had a good game plan on how to approach every pin. I don't have many wedges into many of the holes here, so I was able to take advantage of good numbers."
Johnson benefited by his final round pairing with Augusta native Vaughn Taylor, one of his closest friends.
"Having a buddy next to you certainly doesn't hurt," Johnson said. After the round, Taylor said, "If you're not Superman, you're Superman's brother."
Johnson won the Masters with his performance on the par-5 holes, making 11 birdies.
"I didn't look at the board," said Johnson, who was a member of the 2006 U. S. Ryder Cup team. "I really didn't know what was going on. I did what I was doing — staying in the present. My caddie, Damon Green, was keeping an eye on the lead. I guess ignorance is bliss sometimes."
"I could tell from the fans what was going on. At the 14th hole, (Green) said we've got a 2-shot lead."
A birdie at the 14th was Johnson's second straight.
Johnson didn't flinch in the face of the challenges by Woods and Goosen. "Zach has been a good player for a long time," Goosen said. "He hits the ball very solid, very straight, and he's a very good putter. That's what you need to do around Augusta."
Woods closed with a 72 and tied for second with Goosen and Rory Sabbatini, who each shot 69.
"That's phenomenal under the circumstances. That's just great golf," said Rory Sabbatini.
"It just goes to prove that if you focus on what you're doing and you don't think ahead, you're going to be fine," Sabbatini said. "Zach's just proof of that. He's a very levelheaded golfer. He's very consistent. He's also tenacious, and that's what you need to win."

Woods looked like a lock for his fifth Masters and third straight major when he took the lead after a short birdie on the second hole, only this major didn't work out like so many others.
It was the third time Woods lost a lead during the final round of a major, and the first time he ever failed to get it back.
"I was sitting in the locker room waiting for Tiger to hit his second shot on 18," said Johnson. "Before he hit it, I'm like, 'He's done stranger things.' The guy's a phenom.
"The next person to come along like him, who knows how long it's going to be. It makes it that much more gratifying knowing that I beat Tiger Woods. There's no question about it."
Johnson finished at 1-over 289, matching a Masters record last set in 1956 for highest winning score. And it ended a streak of the winner coming out of the final group at Augusta National ever year since 1991.
"He played beautifully," Woods said. "Look at the round he shot out there, the score. He did what he needed to do. He went out there, grinded away, made shots he needed to make."

"I knew if I stayed in the present, I'd do well," said Johnson. "I kept rolling that ball, and it was my day, I guess. Pretty lucky."