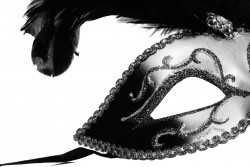 CONTACT: Ann Cravero, 515-271-3847, ann.cravero@drake.edu;

Lisa Lacher, 515-271-3119, lisa.lacher@drake.edu
Drake University Opera Theatre, directed by Ann Cravero, assistant professor of music, will present the English-sung version of the comical opera "Die Fledermaus (The Bat)" by Johann Strauss at 8 p.m. Friday, April 20, and Saturday, April 21, in the Performing Arts Hall, Harmon Fine Arts Center, 25th Street and Carpenter Avenue.
The opera features a lighthearted romp through mistaken identities, a lavish party thrown by a Russian count, a drunken jailor and all the loose ends tied up at the ball. There's a cast of incomparable characters and musical favorites galore.
"This enchanted evening will leave you humming long after Count Orlofsky's ball is over," Cravero said.
Tickets are $12 for adults and $6 for students, senior citizens and those with Drake I.D. They are available through the Drake Fine Arts Box Office at 515-271-3841.
Sponsored by Friends of Drake Arts, a pre-theatre dinner and talkabout will be presented by Leanne Freeman-Miller, associate professor of voice, at 6 p.m. Saturday, April 21, in Levitt Hall in Old Main, 2507 University Ave. Tickets are $30 and include the dinner, talk and opera. Reservations are required. For reservations and more information, call 515-271-3147.