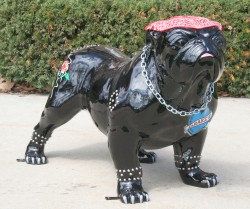 Decorated by Drake First Lady Madeleine Maxwell, the bulldog sponsored by the Office of the President shows off its school spirit with a Drake tattoo emblazoned near its heart.
CONTACT: Lauren Smith, Drake Student Body President, 515-271-4555, lauren.smith@drake.edu;

Katie Knorovsky, 515-271-1834, katie.knorovsky@drake.edu
Drake University will parade a new litter of its beloved mascot, the Bulldog, around campus this year for the 98th running of the Drake Relays.
The first annual Bulldog Parade committee and artists will unveil seven 50-pound fiberglass bulldogs — decorated in a variety of colorful styles that represent their sponsors — from 1 to 1:30 p.m. Thursday, April 12, at Pomerantz Stage in Olmsted Center, 29th Street and University Avenue.
After the initial presentation April 12, the pups will stand guard at different locations around campus. Sponsors are the University Bookstore; Lee and Rudy Trebels, a Drake Board of Trustees member and Drake graduate; Sodexho Dining Services, Student Senate and the Student Activities Board; the Drake National Alumni Association; the Bulldog Parade Committee; and the Office of the President.
"We want to start a new Drake tradition that really invokes campus pride, community awareness and campus collaboration," said Drake Student Body President Lauren Smith. "And thanks to students and our sponsors, the new bulldogs will be prancing around campus this spring, which helps fulfill our mission to continue connecting Drake and the community through public art work and Bulldog pride."
The Bulldog Parade is expected to be displayed for up to a year on Drake's campus. Smith said the goal is to expand the Bulldog Parade to the Drake neighborhood in 2008 and to a community-wide effort for the 100th running of the Drake Relays in 2009.