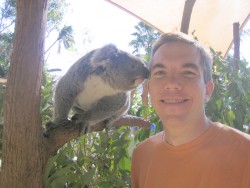 Professor Mark Vitha gets acquainted with a koala in Australia.
CONTACT: Lisa Lacher, 515-271-3119, lisa.lacher@drake.edu
Drake University faculty member Mark Vitha will conclude the spring semester's Science Colloquium Series by talking about chemistry and kangaroos. Vitha, associate professor of chemistry, recently returned from a sabbatical year at the University of Sydney in Australia, where he explored the effects of cholesterol on cell membranes and the potential influence of cholesterol on the function of an enzyme that transports sodium and potassium across cell walls.
His talk, titled, "Koalas, Kookaburras, Kangaroos and Chemistry Down Under: Fluorescent Studies of the Effect of Cholesterol on Lipid Vesicles," will focus mainly on his research but also touch on a wide array of unusual creatures. It is free and open to the public, and begins at noon Friday, April 13, in room 206 of Olin Hall, 1344 27th St.
"This talk is intended for a general audience," Vitha said. "I will give a description of the fluorescence methods we used to study these systems, and present some of our findings. In the second part of the talk, I will discuss some scientific and cultural experiences I had throughout the year. I promise to show pictures of kangaroos and koalas."
The Drake University Science Colloquium Series features several lectures by Drake faculty and other invited speakers every semester. It is an extension of the Drake Undergraduate Science Collaborative Institute, which was created in April 2005 to promote, support and coordinate efforts to fund undergraduate research in math and science. For more information about DUSCS or DUSCI, contact Maria Bohorquez at 515-271-2595 or maria.bohorquez@drake.edu.