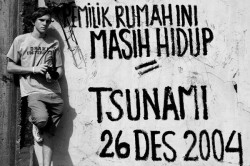 Piotr Jakubowski, a junior advertising and marketing major from Jakarta, Indonesia, stands by a wall of a home destroyed in the 2004 tsunami. The writing says, "The owner of this home is still alive."
Ad student shoots for success
As a junior in high school at Jakarta International School in Jakarta, Indonesia, Piotr Jakubowski devised a calculated list of the top four ad agencies he dreamed of working for someday. Now a junior creative advertising and marketing double major at Drake, he's well on his way to crossing the second of those agencies off his to-do list.
Jakubowski was recently selected as one of 15 advertising students in the nation to participate in the 2007 Vance L. Stickell Internship Program and will spend the summer interning at Saatchi and Saatchi in New York, one of those four dream agencies. For Jakubowski, the accomplishment symbols just another rung on his climb to the top. After all, he has previously held internships at RL-Polk, a marketing research firm specializing in automotive research in Tokyo, and ad agency McCann-Erickson in Indonesia, another of the agencies to make Jakubowski's list.
His global sentiment derives from a self-described "third-culture" upbringing. Born to Polish parents and raised in Indonesia, he is fluent in Polish, English and Indonesian as well as conversational in Japanese. He chose Drake from among the AAF's Web site list of more than 200 schools that have student chapters of the American Advertising Federation.
Jakubowski has actively engaged in Drake's campus life as an officer of Ad Club, photographer for Drake Magazine and 515 Magazine and, until recently, was a member of the men's varsity soccer team.
"I feel I need to go big or go home," he said. "That's always been my attitude." Though Jakubowski is a self-starter, he considers professors like his adviser, advertising assistant professor Dorothy Pisarski, key to his success. "I think Drake professors have been critical in my journey," he said. "They're so open to help you with anything."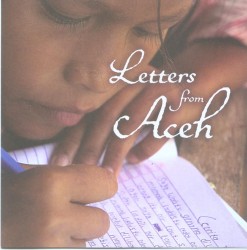 Jakubowski photographed the cover of "Letters from Aceh," a recounting of the aftermath from the 2004 devastating tsunami, told from the view of surviving children.
After his first year on campus, he returned to Indonesia to shoot photography for a book called "Letters from Aceh," a recounting of the aftermath from the 2004 devastating tsunami, told from the view of surviving children. All proceeds from the sale of the book are donated to a school-rebuilding program at Aceh. Plus, he took top honors at the 2005 Iowa State Fair Photography Competition, winning "Best of Black and White" in the adult division.
"In the classroom, professors are very impressed with Piotr's maturity," Pisarski said. "His many and varied advertising internships worldwide have given him valuable professional experience. He doesn't laud this over other students, but contributes to classroom activity with a tremendous respect for learning. Piotr is an outstanding scholar, a superlative photographer and a sure success at any ad agency that employs him."
But while Jakubowski is certainly an exceptional up-and-coming student, he is not alone in his ambition or talent at the SJMC. He follows in the footsteps of last year's Stickell intern from Drake, Lauren Albracht, who was assigned to DDB's office in New York.
To check out some of Jakubowski's photography, visit www.bulephoto.com.