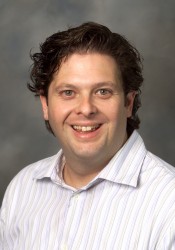 Michael Couvillon, assistant professor of education, joined the special education program this academic year.
The School of Education's special education department is undergoing a renaissance, thanks to generous gifts and increased student enrollment.
The James McMahon Institute summer workshop will be reinstated after a decade-long interlude. Through an endowed gift of $214,000 left from the estate of Noreen Barkema, ED'59, GR'63, in memory of her late brother, the institute will resume in summer 2008 and continue indefinitely.
During its prime in the 1990s, the workshop brought teachers from across Iowa together to learn the newest strategies for teaching students with mental disabilities. Funding for the institute ran out in the late 1990s.
Its reincarnation will be an annual, multi-day summer program. Featuring sessions conducted by leaders in the field on life skills, literacy and problem solving, the institute will be dedicated to training teachers help students with cognitive and behavioral disabilities achieve success at home, school and work. Planning for the 2008 institute is currently under way.
The special education department also received a $5,000 gift this past fall from long-time supporters of Drake University Grover and Cindy Hahn. The gift has been used to enhance the program with handbooks, DVDs and new top-of-the-line software called Boardmaker, which allows teachers to create lessons, reading materials, daily schedules, class newsletters and other materials for students with language and reading deficits.
Two special education faculty members, Kathy Fejes and Michael Couvillon, will also attend conferences next fall to receive training to help better prepare teachers who work with students with pervasive developmental disorders such as autism.
In addition, Couvillon has joined the special education program as assistant professor to help offset growing demand for special education classes. He brings expertise in Positive Behavior Supports, working with teachers of students having learning and behavior problems. He was formerly a regional trainer for Boys Town in effective behavior management practices.