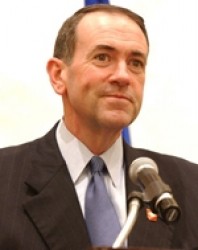 Mike Huckabee
Republican presidential candidate and former Arkansas Gov. Mike Huckabee will speak at the next Drake University-IowaPolitics.com Luncheon on Friday, April 13.
The lunch, which is open to the public, will begin at 11:45 a.m. with the program starting at noon in Drake's Levitt Hall in Old Main. Huckabee will make brief opening remarks, then respond to questions from Chris Dorsey, the IowaPolitics.com Des Moines bureau chief, and from the audience. Doors will open at 11:30 a.m.
Pre-paid reservations for lunch are required due to limited seating. The cost is $10 per person for admission and lunch. To reserve a seat, call 515-271-3747 or e-mail iowacaucuses@drake.edu by noon Wednesday, April 11. Students with a Drake ID will receive free admission to the program portion of the luncheon. Parking will be available in the Drake parking lots at 26th Street and University Avenue and 25th Street and Carpenter Avenue.
Huckabee, who was first elected lieutenant governor in 1993, became Arkansas' 44th governor in July 1996 when his predecessor resigned. He was elected to a full four-year term as governor in 1998, attracting the largest percentage of the vote ever received by a Republican gubernatorial nominee in Arkansas, and was re-elected to another four-year term in November 2002. He was the third longest serving governor in the history of Arkansas, having served 10.5 years before leaving office on Jan. 9.
The Drake-IowaPolitics.com Luncheon Series, which began March 9, provides a forum where major candidates, elected officials, major party leaders, campaign organizers, pollsters, pundits and other newsmakers can communicate directly with interested citizens as well as Drake students, faculty and staff. The series, launched less than a year before the crucial Iowa caucuses in January 2008, will help focus attention on major issues and Iowa's role in the presidential selection process — both before and after the caucuses.
For more information about the luncheon series, contact Julie Rutz at 515-226-8774 or rutz@iowapolitics.com.