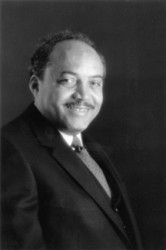 Wendell Talbot Hill Jr., PH'50 (1924-95)
Weaver Medal of Honor awarded to Wendell Talbot Hill Jr.
This year's Lawrence C. and Delores M. Weaver Medal of Honor — the highest award presented by Drake's College of Pharmacy and Health Sciences — will be awarded posthumously to Wendell Talbot Hill Jr., PH'50 (1924-95).
The Weaver Lecture, which is free and open to the public, will be delivered by Hill's widow, Marcella, and two sons, Wendell III and Philip Elliott, at 1 p.m., Wednesday, April 25, in Sheslow Auditorium, Old Main. A reception will follow from 4 to 6 p.m. at the Salisbury House, 4025 Tonawanda Drive, Des Moines. Reservations are needed for the reception. For reservations, call 800-44-DRAKE, x3147 or e-mail alumni.rsvp@drake.edu by April 15.
Following his academic training at Drake and the University of Southern California, Hill was instrumental in advancing hospital pharmacy practice between 1954 and 1976.
In 1977, Hill was appointed dean of the College of Pharmacy at Howard University. Accepting the responsibility at a time when the college was in turmoil, Hill enabled the college to reach full accreditation status by the American Council on Pharmaceutical Education and rallied resources to accelerate the university's growth and development.
He earned recognition from his peers for superior leadership as a member of several professional organizations, including his place on the Board of Trustees at Drake. Hill was also awarded the Alumni Distinguished Service Award from Drake in 1975. He met his wife, Marcella Washington, GR'49, at Drake and together the couple raised two sons.
An exhibit highlighting Dr. Hill's professional career will coincide with the Weaver Lecture and be on display for the remainder of the semester in the Heritage Room of Cowles Library.
The Weaver Medal of Honor was established by Lawrence Weaver, PH'49, dean emeritus of the University of Minnesota College of Pharmacy, and his wife, Delores.