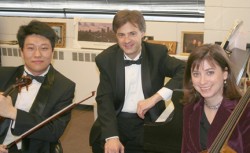 The Drake Fine Arts Trio is, left to right, violinist Lin He, pianist Nicholas Roth and cellist Ashley Sandor Sidon.
Drake music department revives popular tradition
Three faculty members from Drake University's music department are bringing professional chamber music to the Des Moines area with the revival of a generations-old Drake tradition: the Fine Arts Trio.
Pianist Nicholas Roth, violinist Lin He and cellist Ashley Sandor Sidon held their free debut performance April 5. The program included Dvorak's "Dumky" Trio in E Minor, Op. 90 and Schubert's Trio, Op. 99.
Drake has not had a Fine Arts Trio for three years, but previously had one for many generations. Sidon, assistant professor of cello, and He, assistant professor of violin and viola, are both in their first years at Drake. Roth, assistant professor of piano, has been a faculty member for four years.
Roth says the Fine Arts Trio hopes to perform in venues across the country, with particular emphasis on playing outreach concerts for students in schools nationwide. The trio began its educational outreach April 4 when the musicians played movements from their debut concert for local high school students in Sheslow Auditorium.
"We hope to raise awareness of chamber music and the visibility of Drake's music program," Roth said. "With the recent addition of my colleagues here, this department is really becoming something impressive. We have a lot to be proud of."