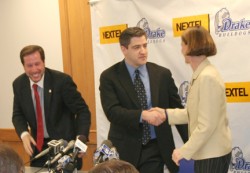 President David Maxwell and Director of Athletics Sandy Hatfield Clubb congratulate new Men's Basketball Coach Keno Davis (center).
Director of Athletics Sandy Hatfield Clubb announced recently the naming of Keno Davis as the school's 24th head men's basketball coach. Keno succeeds his father, Tom Davis, who has retired as head coach but will remain at Drake as a special assistant to the athletic director.
"Today begins a new era for men's basketball at Drake University," Hatfield Clubb said at a news conference last Wednesday. "I am thrilled to announce that Keno Davis will succeed his father as our head coach. He has been mentored by three of the best coaches in college basketball, in not only developing his ability with the Xs and Os of the game, but also in making a commitment to the holistic development of the student-athlete."
"I'm excited about the future of Drake basketball as we look to build upon our recent success," Keno Davis said. "My father laid the groundwork and foundation for success in this program. Without question, the highlight of my coaching career has been the opportunity to work under my father for the past four years."
Keno Davis served six years as an assistant coach under former Drake head coach Gary Garner at Southeast Missouri State, before being named the first assistant to join the men's basketball coaching staff at Drake under Tom Davis on May 19, 2003. He also served as an assistant coach at Southern Indiana from 1995-97 under coach Bruce Pearl, who is now the highly successful coach at the University of Tennessee.



Keno Davis will inherit a Drake program that returns seven letter winners, including two-year starting forward Klayton Korver and sophomore starting guard Josh Young, who was named to the 2007 Missouri Valley Conference All-Newcomer and All-Freshman teams.
"I can't imagine spending four more enjoyable years than the last four at Drake," Tom Davis said. "I'll miss everything about day-to-day coaching, but will do all I can to help Drake, the players and coaches keep the program moving forward."
Hatfield Clubb said Tom Davis will be involved in helping increase the men's basketball season ticket base along with fundraising and fan support of the athletic program in his new position.
"We are very fortunate that Dr. Tom has agreed to continue in a new role in the Drake family," Maxwell said. "He is a cherished colleague and friend."