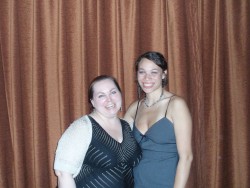 Deanne M. Rymarowicz and Erin Lain
Editor's Note: Deanne M. Rymarowicz, Esq., JO'91, LW'94, enjoyed her experience as a mentor to Drake first-year law student Erin Lain. Below, Rymarowicz shares her perspectives.
Last year I had a tremendous opportunity to reconnect with my Drake roots in a very special way, and I'm very glad that I took the opportunity.
It started with a Drake Law School alumni event in Las Vegas with Dean David Walker. That led to reconnecting with Barb Dietrich Boose, director of alumni and parent programs, with whom I had worked during our previous lives at Drake. A few months later, Barb asked me whether I could help a recent Drake graduate and law student-to-be find a summer job in Las Vegas. I said, "Sure … with me!" I hired Erin Lain as my law clerk without so much as an interview.
Over the summer, Erin and I talked a lot about Drake — the campus, the fraternities and sororities, the food, the hangouts and what to expect in law school. Although there were some new buildings and new professors, it seemed to me that it was the same Drake I knew and loved. It felt good to know that students today are having the same kinds of experiences that I had and, more importantly, that at its core, Drake continues to provide excellence in education.
For me, being a mentor meant coming full circle with a place that taught me well and gave me the foundation to do what I do today, not only in my professional life but in my personal and philanthropic lives as well. It gave me such a feeling of satisfaction and, frankly, joy to know that I could be a role model to someone at my school. It was (dare I say) fun to remember what law school was like, hopefully preparing Erin a little more for the experience.
My life philosophy includes giving back, so being a mentor seemed like a perfect fit. What I did not expect was to receive so much in return. Not only did I get a smart, fantastic assistant for the summer, but also a glimpse of Drake today and a sense that I was doing something worthwhile for the next generation of Drake graduates. Mentorship is truly a win-win opportunity for both the mentee and the mentor.
Want to be a mentor for a Drake student? It's easy, rewarding and an important contribution to current students! For more information, contact Kelli Turner, assistant director of alumni and parent programs, at kelli.turner@drake.edu or 515-271-3935.