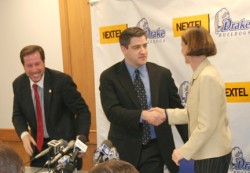 Drake President David Maxwell and Director of Athletics Sandy Hatfield Clubb congratulate new Drake men's basketball coach Keno Davis (center).
CONTACT: Mike Mahon, 515-208-8281, mike.mahon@drake.edu
Drake University Director of Athletics Sandy Hatfield Clubb announced today the naming of Keno Davis as the school's 24th head men's basketball coach.



Keno will succeed his father, Dr. Tom Davis, who has retired as head coach but will remain at Drake as a special assistant to the athletic director.
"Today begins a new era for men's basketball at Drake University," Hatfield Clubb said. "I am thrilled to announce that Keno Davis will succeed his father as our head coach. He has been mentored by three of the best coaches in college basketball, in not only developing his ability with the Xs and Os of the game, but also in making a commitment to the holistic development of the student-athlete."
"Dr. Tom Davis has brought the Drake men's basketball program to a new and exciting level in a very short time. We are immensely grateful to him for all that he has done," said Drake President David Maxwell. "He has built a solid platform from which to take our next steps toward excellence, and we are all very enthusiastic about Keno Davis' vision for the program's future. He is just the right person at just the right time for Drake men's basketball."
"I'm excited about the future of Drake basketball as we look to build upon our recent success," Keno Davis said. "I am appreciative of the strong support of the administration and of the growing support of our alumni, fans and community here at Drake.
"My father laid the groundwork and foundation for success in this program. Without question, the highlight of my coaching career has been the opportunity to work under my father for the past four years."
Keno Davis served six years as an assistant coach under former Drake head coach Gary Garner at Southeast Missouri State, before being named the first assistant to join the men's basketball coaching staff at Drake under Tom Davis on May 19, 2003.
He also served as an assistant coach at Southern Indiana from 1995-97 under coach Bruce Pearl, who is now the highly successful coach at the University of Tennessee.



"I have had a great advantage to not only work for my father, but for Coach Pearl at Southern Indiana and for Coach Garner at Southeast Missouri State," Keno Davis said.
Davis has two books to his credit as well. He is co-author of "Pressure Defense," which was published in 1994, and author of "Camp Success," published in 2004.
"Keno is ready," said the elder Davis, who had served as Drake's head coach since April 22, 2003, guiding the school to a 17-15 record this past season. "He has prepared himself well. He had so many years on the bench with me that he has a real good idea what we're trying to do and can communicate that to the players and coaching staff. It also was a great advantage for him to have spent eight years working with two excellent coaches in Gary Garner and Bruce Pearl.
"Keno, Chris Davis (assistant coach) and Justin Ohl (assistant coach) have been very hands-on in the development of the program, so they shouldn't miss a beat."
Keno Davis will inherit a Drake program that returns seven letter winners, including two-year starting forward Klayton Korver and sophomore starting guard Josh Young, who was named to the 2007 Missouri Valley Conference All-Newcomer and All-Freshman teams.
"Yes, the seniors will be missed, but between our incoming recruiting class and returning veterans, it is a solid group to build with," added Tom Davis.
"I can't imagine spending four more enjoyable years than the last four at Drake. I'll miss everything about day-to-day coaching, but will do all I can to help Drake, the players and coaches keep the program moving forward."
Hatfield Clubb said Tom Davis will be involved in helping increase the men's basketball season ticket base along with fundraising and fan support of the athletic program in his new position.
President Maxwell noted that "We are very fortunate that Dr. Tom has agreed to continue in a new role in the Drake family. He is a cherished colleague and friend."
"I'm very excited to partner with Tom in moving the program forward," added Hatfield Clubb. "Tom has made his investment in getting the program headed in the right direction. He has added his character and fingerprints to the program. The program is positioned for success. We are fortunate to have Dr. Tom continue building the program in a different arena."
"I couldn't have asked for better leadership than what I've received from President Maxwell, Sandy Hatfield Clubb and Dave Blank (former Drake athletic director)," said Tom Davis. "It has been everything a coach wants in terms of leadership and support. Whatever strides the program has made has been with their help."
KENO DAVIS COACHING EXPERIENCE
Assistant Coach
• Drake University, 2003-2007
• Southeast Missouri State, 1997-2003
• Southern Indiana, 1995-97
Undergraduate assistant coach
• Iowa, 1991-95