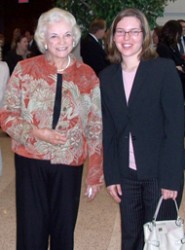 Kendra Mills Arnold, a third-year law student from Ankeny, poses with retired U.S. Supreme Court Justice Sandra Day O'Connor after observing her preside over the oral arguments at the Eighth Circuit of the U.S. Court of Appeals.
Kendra Mills Arnold, a third-year Drake Law School student from Ankeny, presented oral arguments before the Iowa Court of Appeals March 8 at the Iowa Judicial Branch Building.
Arnold is a student in Drake Law School's Advanced Appellate Clinic. The case is Doe v. District Court, and the issue on appeal was whether personal jurisdiction over a nonresident defendant is constitutionally required.
Doe requested an order of protection in the Iowa District Court for Scott County, at which point she lived in Iowa but had not established legal residence in the state. The defendant lived in another state. The petition was dismissed due to the judge's ruling that there was not constitutional jurisdiction over the case or defendant since both parties lacked a legal tie to Iowa. Represented by the Iowa Attorney General's office, Doe appealed the dismissal.
"The facts of the case are a bit unique, since normally the attorney general would represent the district court judge but obviously that would have been a conflict of interest," said Bob Rigg, head of the criminal defense program at Drake Law School. So the Iowa Volunteer Lawyer Project contacted the Drake Legal Clinic to represent the District Court judge's dismissal. That's when Arnold entered the mix. She filed her second appeal ever and was granted oral argument before the Iowa Court of Appeals.
As this year's only advanced appellate student at the Drake Legal Clinic, she's already garnered plenty of rare opportunities to help prepare her for her upcoming court debut. In mid-February, she joined Megan Erickson, a third-year law student from Exira, Iowa, in St. Louis to observe the Eighth Circuit of the U.S. Court of Appeals with retired U.S. Supreme Court Justice Sandra Day O'Connor presiding over the oral arguments.
Arnold attributes that encounter and other courtroom experiences set up by Drake to be the most instrumental elements of her legal training — including the appellate argument built into the first-year legal research and writing curriculum.
"That definitely gave me experience and confidence going into this, since I have done it once before," Arnold said. "And Drake's legal clinic has really been one of the most beneficial things about my legal education. It does such a great job teaching you how to actually be an attorney. I feel confident that I can practice law now."
"Kendra will be an outstanding lawyer," said Dean David Walker, "and the experiences at Drake that she relates — in Moot Court and with real clients in real cases in the Criminal Defense Clinic and now the Iowa Court of Appeals — illustrate our integration of practice with theory in students' legal education.  A recent report by the Carnegie Foundation for the Advancement of Teaching urged law schools to give 'attention to the use of legal thinking in the complexity of actual law practice.' That's exactly what Kendra is doing and what we intend for all of our students."
Arnold plans to begin a clerkship with Iowa Court of Appeals Judge Gayle Nelson Vogel, LW'83, in the fall.