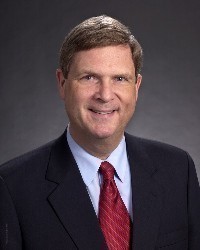 Tom Vilsack
CONTACT: Katie Knorovsky, 515-271-1834, katie.knorovsky@drake.edu
Former Iowa Gov. Tom Vilsack will deliver the keynote address at the Drake University Law School's annual Supreme Court Celebration, which will start at 7 p.m. Saturday, March 10, at the Des Moines Marriott Downtown, 700 Grand Ave. Vilsack is scheduled to speak at 9 p.m. His talk will focus on the priority of children in the justice system.
Vilsack was recently appointed visiting distinguished professor of law by the Drake Law School for the 2007 calendar year. He has enjoyed outstanding success in private practice and public service and has demonstrated leadership at both the state and national levels.
Vilsack was elected the 39th governor of Iowa in 1998 and is the former chair of the Democratic Governors' Association. He currently serves as chair of the Democratic Leadership Council. His career is marked with significant improvements and transformations in issues dealing with the economy, education, health care and sources of renewable energy. Last November, he announced he was seeking the 2008 Democratic presidential nomination but withdrew recently due to slow fundraising.
Prior to being elected governor, Vilsack practiced law with his father-in-law in Mt. Pleasant, served as an Iowa State Senator from 1992-98 and was the mayor of Mt. Pleasant from 1987-92. He received a bachelor's degree from Hamilton College in Clinton, N.Y., in 1972 and a law degree from Albany Law School in 1975.
The Supreme Court Day dinner is an annual celebration of academic excellence, leadership and service, and honors Drake Law School's historic and strong relationship with the Iowa Supreme Court. Recent speakers at the event include Sens. John Kerry, Tom Harkin and John Edwards.
In addition, the winners of the first Drake University Law School Writing Competition will be announced at the dinner. The Iowa Supreme Court will review the entries of the finalists and select the first place (,500), second place (,000) and three honorable mention (0 each) entries. The top entry also will be published in the Iowa State Bar Association's magazine, The Iowa Lawyer.