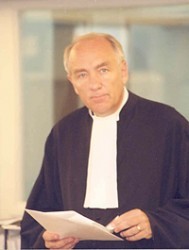 Stephen Rapp, LW'74
Stephen Rapp, LW'74, prosecutor of the United Nations-backed Special Court for Sierra Leone (SCSL), will return to Drake Law School April 9-10 to meet with students and faculty and deliver a lecture titled "The Compact Model in International Criminal Justice: The Special Court for Sierra Leone."
The Special Court, an independent tribunal established jointly by the United Nations and Sierra Leone, is tasked with bringing to justice those responsible for atrocities committed during a civil war in the west African country after November 1996. The Special Court has jurisdiction over the case against the notorious former Liberian President Charles Taylor, whose trial will be held at The Hague in the Netherlands.
Prior to joining the SCSL, Rapp served as chief of prosecutions at the International Criminal Tribunal for Rwanda (ICTR) from May 2005 until December 2006, supervising the prosecution of those accused of the worst crimes during the 1994 Rwandan genocide.
Rapp worked previously as a U.S. attorney in the state of Iowa. He also served as an elected member of the Iowa Legislature and as a lawyer with the U.S. Senate Judiciary Committee.
Rapp is best known internationally for successfully prosecuting media executives who helped incite the Rwanda's extremist militia as well as broadcast the whereabouts of Tutsi sympathizers — a conviction that scholars say sets important precedent for future cases before the International War Crimes Tribunal at The Hague.
"We're thrilled Stephen Rapp is returning to Drake Law School," said Law School Dean David Walker. "His work is extraordinarily important, and we are immensely proud and grateful for the work he does and all that he has achieved."