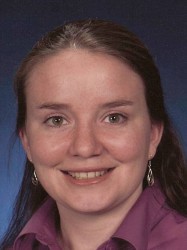 Ann Hornschemeier
CONTACT: Katie Knorovsky, 515-271-1834, katie.knorovsky@drake.edu
The rescheduled lecture for Friday, March 2 has been canceled due to winter weather.
The lecture by Ann Hornschemeier, an astrophysicist for NASA and Drake University graduate, has been rescheduled for Friday, March 2, in room 206 of Cline Hall. She will present "From Drake University to X-Rays in Space," which was originally planned to take place at 7 p.m. Thursday, March 1.
Hornschemeier's talk, which is free and open to the public, is part of the Drake Undergraduate Science Collaborative Institute's Life After Drake Series. She will chronicle her career path from a high school student in rural Ohio to a summer participant in the Space Grant Consortium to her current position as deputy project scientist at NASA for the Constellation-X, a space mission due to launch in 2018.
Hornschemeier graduated from Drake in 1997 with a B.S. in physics and mathematics. She received an M.S. in 1999 and a Ph.D. in 2002, both in astronomy and astrophysics from Pennsylvania State University. She joined NASA in 2004. Her specialization is the study of X-ray emission from star formations. In addition, she is an active proponent of astronomical outreach via small NASA grants for Girl Scout activities. She also founded a new science program for girls in the Baltimore area.
"Ann is an excellent role model for science students, in particular women," said Maria Bohorquez, director of the Drake Undergraduate Science Collaborative Institute. "We hope her talk and informal discussions with students will inspire and encourage students to pursue challenging career paths."
For more information about Hornschemeier's lecture at Drake, call 515-271-2595.