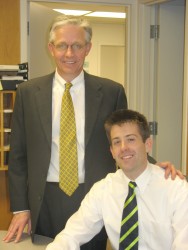 Third-year law student Jess Phelps is writing a paper with Iowa Supreme Court Justice Mark Cady, LA'75, LW'78.
Third-year law student Jess Phelps sits in a unique position. After all, his office lies just down the hall from Iowa Supreme Court Justice Mark Cady, LA'75, LW'78, on the fourth floor of the Iowa Judicial Branch Building.
That's because he's been writing a paper with Cady since the start of the academic year, thanks to Drake Law School's new Iowa Supreme Court Scholar program.
"It's really interesting to be around the Court and see how it operates," Phelps said. "And just to work with a Supreme Court justice has really helped me develop my writing skills."
Inspired by the 2002 ruling of the Republican Party of Minnesota v. White, their as-yet-untitled paper examines the role of retention elections in judicial speech and its effects on Iowa. It will be ready for publication in March with Phelps billed as co-author. He wrote three of the five sections.
"It's really been a collaboration," Phelps said. "Justice Cady has been great and has really done a lot on this issue. So if something comes up that I'm not exactly sure on, I'll go and talk to him."
Cady agreed to participate in the program as an opportunity to give back to his alma mater in a distinctive way.
"While my motivation for the project was to benefit Drake and a law student, I really think I've received much more in return," Cady said. "This has been due to Jess and my feeling that our work product has the possibility of providing a public benefit in ways well beyond the opinions I write on behalf of the court — and that's exciting."
Phelps was selected as the charter scholar for the program. He has written two other published articles — "A Vision of the New Deal Unfulfilled? Soil and Water Conservation Districts and Land Use Regulations" in the Drake Journal of Agricultural Law and "Much Ado About Decoupling: Evaluating the Environmental Impact of Recent European Union Agricultural Reform" in Harvard Environmental Law Review.
Next fall he will begin a clerkship with Judge Richard W. Goldberg at the Court of International Trade in New York City.