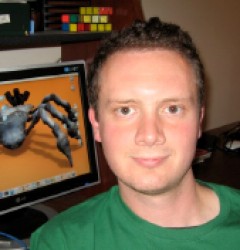 Casey O'Donnell
The lecture for Friday, March 2 has been canceled due to winter weather
Casey O'Donnell, a Drake University graduate, will present "Breaking into the Video Game Industry: Work, Play and the Global Economy" at noon Friday, March 2, in room 206 of Olin Hall, 27th Street and Forest Avenue.
O'Donnell is a Ph.D. candidate in the Department of Science and Technology Studies at Rensselaer Polytechnic Institute (RPI) in Troy, N.Y. His talk, which is free and open to the public, is part of the spring Drake University Science Colloquium Series.
O'Donnell will examine the diverse forces and activities — such as laws, technologies and workplace cultures — that shape video game development and make it relevant in today's global economy. He will analyze the new economy created by the global video game market and will compare and contrast that of the well-established industry in the United States to the newly emerging industry in India.
O'Donnell graduated from Drake in 2001 with a B.S. in computer science and mathematics and received his M.S. from RPI in 2004. He has more than five years of software engineering experience, including stints at NASA's Jet Propulsion Laboratories, a game development sub-contractor and a design automation services company. He received undergraduate fellowship awards from Caltech, NASA, the Iowa Space Grant Consortium and the Aerospace States Agency.
For more information about O'Donnell's presentation at Drake, call 515-271-2595.