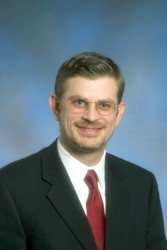 Seth Andersen
The American Judicature Society has announced the appointment of Seth S. Andersen as executive vice president.
Andersen directs the daily operations and staff of the Des Moines-based national headquarters, as well as its Chicago staff and the society's Institute of Forensic Science and Public Policy, located in Greensboro, N.C. He works to promote AJS's unique engagement of non-lawyer citizens in justice system improvements and to bring together diverse constituencies around the country to safeguard the independence of the judiciary.
"Seth Andersen possesses a wealth of knowledge and experience in the key areas of concern to the American Judicature Society," said Neal R. Sonnett, AJS president. "His commitment to improving the administration of justice will serve the Society and its members very well in the coming years."
From 1993 to 2000, Andersen served AJS in numerous capacities, including as director of the Center on Judicial Independence and the Elmo B. Hunter Citizens Center for Judicial Selection. Most recently, Andersen was special assistant to the president of the American Bar Association, providing advice and counsel on a wide range of policy matters and coordinating the president's speaking engagements, meetings and special events.
Andersen is a nationally recognized authority on merit selection of judges and judicial independence. He has directed groundbreaking research projects on judicial performance evaluation systems, diversity in state court judiciaries and citizen response to jury summonses. He holds a degree in history and American studies from the University of Kansas.
Drake and AJS established a partnership in 2003 with the move of the AJS headquarters to Des Moines from Chicago, thanks to the support of Dwight D. Opperman, LW'51. Founded in 1913, AJS is a leader in improving our nation's courts. Its mission is to secure and promote an independent and qualified judiciary and a fair system of justice. For more information on AJS, visit www.ajs.org.