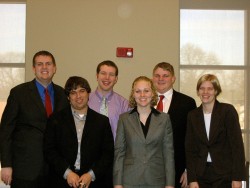 Drake Mock Trial Team 489
CONTACT: Lisa Lacher, 515-271-3119, lisa.lacher@drake.edu;

Jeremy DeFoe, co-president of Drake Mock Trial, 712-330-5628, jdd006@drake.edu
Teams from Drake University's undergraduate mock trial program earned one silver and one gold bid to national, post-season tournaments in competitions Feb. 16-17. Team 490 took first place with a 7-1 record, earning the Drake program a gold bid, and Team 489 earned a silver bid by taking third place with a 6-2 record. Team 488 took fifth place.
Although the top six places at the regional would receive bids to a national tournament, each program is limited by competition rules to only two bids per program. Therefore, despite qualifying for three bids, the Drake program received two.
"This program has performed exceptionally well this year, with all three teams consistently performing well," said Elizabeth Vaubel, a senior politics and history major from Okoboji, Iowa. "Having a single program with three teams in the top five at any regional is a very rare, but telling, example of how Drake mock trial continues to excel when compared to schools of all sizes and teams of all abilities across the nation." Vaubel received an Outstanding Attorney award at the Feb. 16-17 competitions.
One of the bids Drake earned sends a team to the gold flight tournament, also known as the National Championship Tournament, which will be held in St. Petersburg, Fla., from April 13-15.
The program's second bid is to one of two national silver tournaments, which will be held in Minneapolis, Minn., from March 16-18. The top six teams at the silver tournament will advance to the gold tournament in St. Petersburg.
"We clearly demonstrated that we are one of the powerhouse programs in our region," said John Lande, a junior politics and environmental policy major from Huxley, Iowa. "By taking three of the top five places and earning nine individual awards, we have shown exactly how strong this year's program is." Lande received an Outstanding Witness award at the competitions.
In addition to Vaubel and Lande, both of Team 488, seven Drake team members received individual awards at the tournament.
Team 488's other award winners were James Wallace, a senior law, politics and society major from Des Moines, and Justin Carrothers, a senior law, politics and society and history major from Des Moines, who both received Outstanding Attorney awards.
From Team 490, Sarah Kucker, a junior psychology and philosophy major from Eagan, Minn., earned an Outstanding Attorney award, and Katharine Willey, a first-year open major from Cedar Rapids, Iowa, earned an Outstanding Witness award.
On Team 489, Ellen Cooper, a senior international business and accounting major from Dubuque, Iowa, and Van Everett, a first-year law, politics and society major from West Des Moines, earned Outstanding Attorney awards. Mike Nelson, a sophomore English and politics major from Gowrie, Iowa, earned an Outstanding Witness award.
Collegiate mock trial is administered and facilitated by the American Mock Trial Association. Approximately 453 colleges and universities in the United States compete yearly with AMTA.