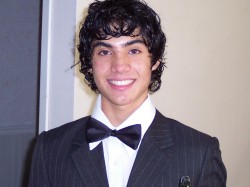 Micah Wright will be featured in the Drake Symphony Orchestra concert on March 10.
CONTACT: Lisa Lacher, 515-271-3119, lisa.lacher@drake.edu
The Drake Symphony Orchestra, with John Canarina conducting, will present its first concert of the spring semester at 8 p.m. Saturday, March 10, on the Jordan Stage in Sheslow Auditorium in Old Main, 2507 University Ave. Micah Wright, winner of the Drake Soloist Competition and a first-year student from West Des Moines, will be the featured soloist, performing Weber's Clarinet Concerto No. 2.
The orchestra also will perform excerpts from Tchaikovsky's popular ballet "Swan Lake," as well as the lively overture "Savannah River Holiday" by American composer Ron Nelson.
Admission is free. For more information, call 515-271-2108.