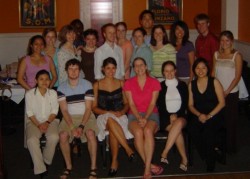 Drake National Alumni Scholars gathered last spring at Centro's for an end-of-school-year party.
Nearly 90 Drake alumni and faculty members will increase their workload this month as volunteers for Drake's National Alumni Scholarship Program. They will spend Feb. 10 and 24 interviewing qualified applicants for the University's Alumni and Carpenter scholarships in this prestigious annual competition.
Drake's National Alumni Scholarship dates back to 1971. To qualify, students must have earned a 29 ACT or 1270 SAT in addition to ranking in the top 5 percent of their high school class or having a 3.75 cumulative grade point average. All qualified students are then invited to attend a Scholarship Day at Drake, where they compete with other qualified students for six Alumni Scholarships, which include full tuition, room and board and fees, and 10 Carpenter Scholarships, which cover full tuition.
Applicants participate in the interviews and an essay competition on Scholarship Day. The event also enables the students and their parents the opportunity to interact with faculty, staff and current students in meaningful ways that reflect the University's learning and social environment.
This year's program has been especially successful, with an increase of more than 25 percent in both the number of qualified applicants and volunteers. Staff of Drake's Office of Alumni and Parent Programs are deeply grateful to the many proud Drake alumni and faculty members who have volunteered to help with this important program.