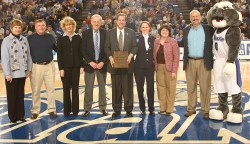 President David Maxwell, center, displays the award, flanked by Don Adams and Athletic Director Sandy Hatfield Clubb. Previous recipients are, from left, LouAnn Simpson, Tom Willoughby, Mary Edrington, Deneen Dygert and David Wright.
Drake President David Maxwell was honored last week with the Donald V. Adams Spirit of Drake Award. The award is given annually by Drake Athletics and recognizes the faculty or staff member who best exemplifies the spirit of Drake as reflected in its mission statement and in the daily life of the University.
Maxwell was presented with the prestigious award by Don Adams, senior counsel and 125th Anniversary fellow, and Sandy Hatfield Clubb, director of athletics, during the halftime of the Jan. 31st men's basketball game against Missouri State.
"Through mentoring, role modeling, advising and teaching, President Maxwell fosters an environment of lifelong learning and an appreciation for humankind that has assisted Drake students to fulfill their goals for professional growth, career aspirations and citizenship responsibilities," Adams said.
Maxwell was inaugurated as Drake's 12th president in May of 1999. Previously, he was director of the National Foreign Language Center in Washington DC from 1993 to 1999, after serving as president of Whitman College from 1989 to 1993. Maxwell taught Russian language and literature at Tufts University from 1971 to 1989 and served as dean of undergraduate studies at Tufts for eight years.