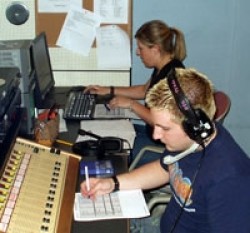 Scott Kubie, JO'06, and Mallory Weber, JO'06, work on last year's production of "DRAKELINE WEEKLY."
'Drakeline Weekly' news magazine returns with ninth season on air
"DRAKELINE WEEKLY" returns to Des Moines-area cable viewers of The College Channel 16 for a 12-program season that launched Thursday, Feb. 1.
Twenty-three electronic media students are collaborating on the quarter-hour programs airing live at 4 p.m. Each newscast replays at 5 and 7 p.m. and is also live-streamed and archived at Drakeline.com. Downloadable iPod versions provide more flexible viewing.
As their capstone project, Drake University's radio-television and broadcast news majors plan and produce every aspect of the news magazine.
Students apply their prerequisite class skills and disciplines to television reporting, photography, editing, program design and deadline studio production. Reporters cover stories across Greater Des Moines but especially those emanating from the Statehouse and Des Moines city government.
Broadcast news senior Cari Howard from Davenport, Iowa, produced and radio-tv senior Matt Holland from Libertyville, Ill., directed the first newscast. Jarrett Schneider from Renwick, Iowa, anchored the first show.
"It's exciting to be part of a student-produced newscast and to be respected and known by newsmakers in the Des Moines area," Howard said. "This project inspires me to report on and deliver news to our audience that will be valuable and well-produced. The experience will no doubt benefit me as I enter the working world in a few short months."
Students recast their material for the School of Journalism and Mass Communication's DrakeDigitalNews.com and KDRA-LP, "94-1 The Dog."
The first "DRAKELINE" series aired during spring 1993 and won a regional Student Emmy. Until 2005, students produced during alternate spring semesters. The activity now occurs annually.
"DRAKELINE WEEKLY" welcomes story ideas or additional feedback from its viewers through drakeline@drake.edu.