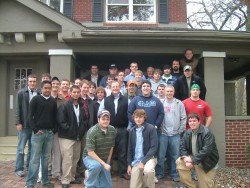 Current and alumni members of Phi Delta Theta Fraternity will celebrate the Drake chapter's 45th anniversary on April 28.
Since 1961, nearly 900 Drake men have been initiated into the Iowa Delta chapter of Phi Delta Theta. During the 2007 Drake Relays, the chapter will officially celebrate its 45th year at the University.
The chapter's annual Ghosts of the Past Barbeque will take place from 11:30 a.m. to 3 p.m. at the chapter house, 1245 34th St., on Saturday, April 28. The active chapter and the Phi Delta Theta Householding Corporation then will host the first annual "Ghosts of the Future" fundraising dinner to celebrate the anniversary and honor the Class of 1977. The dinner will be held from 6 to 9 p.m on Saturday, April 28, at Christopher's Restaurant, 2816 Beaver Ave., Des Moines.
Guest speakers at the dinner will include Mark Ochsenbein, Phi Delta Theta General Council treasurer.
All Phi Delt alumni and their families are cordially invited to attend these events. Cost is per person for the Ghosts of the Future chapter house fundraiser dinner. For more information, visit Drakephidelts.org (after Feb. 9) or contact Gerald Hacker, JO'98, 240-472-0407, gerald.hacker@trin.net, or Tim Coonan, AS'96, 515-991-3916, tcoonan@iowarec.org.