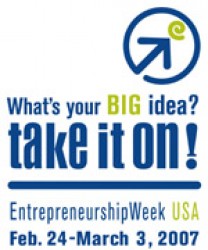 Drake's campus will be awash in a wave of interdisciplinary entrepreneurship later this month with events coinciding with Entrepreneurship Week USA.
Starting Monday, Feb. 26, the College of Pharmacy and Health Sciences' Delta Rx Institute will host the premiere of Drake's Next Top Entrepreneur Competition, a campus-wide, week-long competition Feb. 26-March 2 aimed to challenge students to show creativity and innovation in solving a health-care related problem.
The contest will be split into three rounds, with the top performers in each round advancing. For the first round, students will present a three-minute outline of a health care idea or solution to a panel of judges. Judges will select the best contestants based on originality, creativity and showmanship.
Round two takes place Wednesday, Feb. 28. Students will be expected to craft a three-minute presentation based on an impromptu health care-related scenario. Participants will have one hour to prepare, placing an emphasis on the students' ability to work well under pressure.
In round three, which will take place Friday, March 2, students will submit a business plan formed from their original ideas in round one, responses in round two or new ideas generated as a result of the first two rounds. Students will showcase the plan in a 10- to 15-minute presentation. Judges will then select the winner of Drake's Next Top Entrepreneur Competition based on the most innovative and highest quality plan.
The top entrepreneur will be awarded $750, with a second place prize of $250 and a third place prize of $100. The best three presentations of the first two rounds will also receive cash prizes of $100, $50 and $25.
"I think the event has a lot of potential," said Jessie Shepherd, a senior majoring in marketing and psychology from Prairie Village, Kan., who helped organize the competition. "The prize amounts for winning are quite substantial and are hopefully motivating students to enter. We hope a lot of people will enter the competition, because it encourages people to develop ideas that could turn into useful products in the future."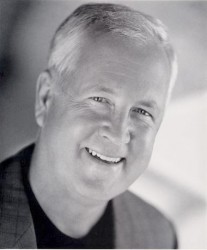 Terry Rich
Coinciding with the final day of the competition, the College of Business and Public Adminstration's John Pappajohn Entrepreneurial Center will host the Collegiate Entrepreneur's Iowa Conference from 9 a.m. to 2:30 p.m. Friday, March 2, in Olmsted Center.
The event marks the sixth year for the annual conference but the first time Drake will have hosted. Students in Free Enterprise (SIFE), a student organization that made its debut last year, will help run the daylong event, which is expected to draw around 500 college and high school students from around the state and region.
"SIFE is still really in its infancy, but we're starting to make some good connections and the momentum is building," said Deb Bishop, director of Drake's John Pappajohn Entrepreneurial Center.
Terry Rich, CEO of Blank Park Zoo, will make opening remarks at 9 a.m. in Parents Hall, Olmsted Center. Recently named an American Zoological Professional Fellow, Rich was previously the president of Rich Heritage Inc., a national marketing and television production company and is recognized as a cable television pioneer. He hosts the Bill Riley State Fair talent search and has won numerous innovator awards.
Students will participate in morning sessions covering topics such as working in a family owned business, financing entrepreneurial endeavors, writing winning business plans, young entrepreneurs and effective marketing and advertising strategies.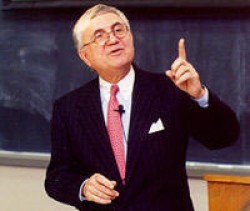 John Pappajohn
John Pappajohn will present awards to the winners of the statewide Student Business Plan Competition during the luncheon at 11:45 a.m. in Parents Hall.
Pappajohn and his wife, Mary, are leading Iowa philanthropists. They have funded the establishment of the five John Pappajohn Entrepreneurship Centers in Iowa.
In 1969, Pappajohn organized Equity Dynamics Inc., a financial consulting entity, as well as Pappajohn Capital Resources, a venture capital firm in Des Moines. He is recognized as one of the early venture capitalists and has been involved in more than 100 start-ups and as director in more than 40 public companies.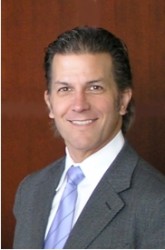 Kyle Krause
Kyle Krause, president of Kum & Go L.C., will speak at 1 p.m. Krause is also the owner and president of Solar Transport, the largest Iowa-based refined fuel transporter.
In 1998, he purchased majority ownership of the Des Moines Menace, a Premier Development League soccer team.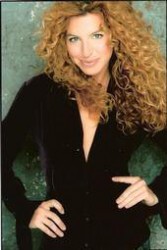 Tanna Frederick
Concluding the conference will be a keynote address at 1:45 p.m. by actress Tanna Frederick, a Mason City, Iowa, native who has starred in two plays on the Los Angeles stage over the past two years.
She plays the leading role in the upcoming feature film, "Hollywood Dreams." Frederick began her acting career early in life in Mason City's Stebens Children's Theatre and graduated from the University of Iowa.
Following the conference, Frederick will attend a sneak-preview screening of "Hollywood Dreams" at 4 p.m. at the Varsity Theatre, 1207 25th St. Tickets will cost $3 for conference attendees and Drake students and $5 for the general public.