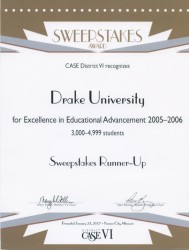 Drake was named the Sweepstakes Winner runner-up at the Council for Advancement and Support of Education (CASE) District VI annual conference in Kansas City, Jan. 21-23. The award recognizes schools for innovation in communications in such areas as publications, special events, public relations, alumni relations and fundraising. Drake won nine awards in this year's competition.
"Being recognized for innovation in communications two years in a row is a great vote of confidence in the direction we are going on behalf of the University," said Brooke Benschoter, director of marketing and communications. "The marketing and communications team is fortunate to have partners all across campus who are willing to support new ideas in a very competitive environment. Innovation will be the key to our continued success as a university."
The awards earned by Drake's Marketing and Communications office included a Grand Gold Award for "Excellence in Photography: News/Editorial or Feature" for the Drake Blue "Field of Dreams" story and three Silver Awards recognizing "Excellence in Communications—Periodicals" for Drake Blue magazine winter 2005, "Excellence in Graphic Design" for the Drake 125 display at the Heritage Gallery in Des Moines, and "Excellence in Advertising" for the "I Came for Drake/Stayed for Des Moines" ad campaign.
Drake also garnered four Bronze Awards acknowledging "Excellence in Communications—Overall Publications" for the Drake undergraduate postcard series and the Drake Law School recruitment postcard series as well as "Excellence in Graphic Design" for Drake Blue magazine winter 2005 and the Drake Blue "Be a Verb" story.
CASE is a professional organization for those in alumni relations, communications and philanthropy. CASE District VI comprises eight states and approximately 200 colleges and universities.