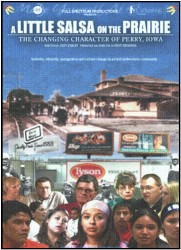 Citizens of Perry, Iowa, have witnessed first-hand the effects — for better and worse — of rapid ethnic diversification, and the community has evolved with its changing complexion from a once predominately white community. Beginning in the early 1990s, an influx of Latinos came to work at the local meatpacking plant, and Perry's Latino population increased from 47 in 1990 to 1,873 in 2000, accounting for 24.5 percent of the total population.
Jody Swilky, Drake professor of English, explores that shifting dynamic in a 55-minute documentary he co-produced with Kent Newman, owner of Full Spectrum Productions. The revised and expanded version of his film, "A Little Salsa on the Prairie: The Changing Character of Perry, Iowa," premiered at Drake Feb. 6.
"One thing I hope people will take away from the film is a better understanding of the difficulties people experience when they come to a new place and try to assimilate," Swilky said.
The film begins with an historical look at the city and examines recent changes in the economy, society and physical environment that arose due to Latino immigration.
"You have a group of people who are very welcoming," says Viivi Shirley, mayor of Perry, regarding community reactions to the culture change, "but then you hear things like, 'Well they certainly should learn how to speak our language' or 'Look how they do it. That's not the way we do it here.'"
Presented with a dual-language approach, the documentary also chronicles small-group community meetings that Perry residents held in an effort to address issues such as immigration, employment and social relations between different ethnic groups.
"I appreciated the honesty of the citizens of Perry, both Caucasion and Hispanic," said Chelsea Cole, a sophomore from Pittsburg, Kan., who attended the Drake premiere.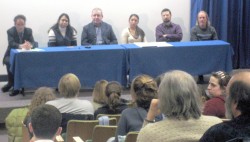 Panelists, from left: Jody Swilky, Vivian D. Gonzalez, Tony Sweet, Anjelica Cardenas, Terry Carmichael and Kent Newman.
A panel discussion with members of the Perry community, who appear in the film, followed the screening, including Terry Carmichael and Tony Sweet of Tyson Foods, Anjelica Cardenas of Perry Public Schools, who emigrated from Mexico in 1996 as a teenager, and Vivian D. Gonzalez of the HOST Program, who came to Perry in 1995 by way of California and Mexico.
The panelists voiced an underlying lesson from the film — that in order for change to occur in any other community struggling with ethnic diversification, people must be willing to open a line of dialogue with one another.
"The power of one is very strong," Gonzalez said, "and if I can echo that to my children, I think that is very good."
DVD copies of "A Little Salsa on the Prairie" are available for $25 (direct sales) and $30 (including shipping in the continental United States). To order, contact Newman at fullspectrum@mchsi.com or 515-883-1230.
The first screenings of the documentary last October drew hundreds of viewers in Perry and Des Moines. To arrange a special screening of the documentary, contact Newman or Swilky at jody.swilky@drake.edu.
Support for the project came from Humanities Iowa, the Iowa Arts Council, Drake's Center for the Humanities, Center for Global Citizenship, Department for the Study of Culture and Society and the English Department's Writers and Critics Series.