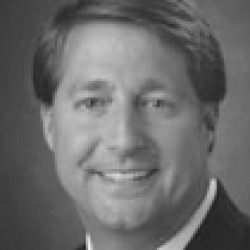 Michael C. Pucci
20th annual Pharmacy Day prescribes change
Drake pharmacy students will devote Wednesday, Feb. 21, to a series of lectures, discussions and professional development activities as part of the College of Pharmacy and Health Science's 20th annual student-organized Pharmacy Day.
The theme of this year's event is "Prxescription for Change" and will examine issues of the changing pharmacy world and emphasize exciting developments to come in the future.
"We're trying to make this day about breaking out of the shell that keeps pharmacists as only dispensers and about changing the pharmacy world to be more patient-oriented," said Mallory Heath, a P2 from Maple Grove, Minn., and co-chair of Pharmacy Day.
The keynote speaker will be Michael C. Pucci, vice president of external advocacy for GlaxoSmithKline (GSK). His speech, titled "The Value of Medicine: The Triple Solution to Improving Health and Lowering Health Care Costs," will start at 9 a.m. in Sheslow Auditorium and cover recent national health care statistics, identify key drivers of health care costs and analyze three case studies demonstrating the role of compliance and pharmacists in improving health and lowering the cost of treating chronic disease. In addition, he will present the latest information on patient assistance programs and Medicare Part D legislation.
Pucci's work on GSK's Value of Medicines campaign has been featured on the covers of Sales & Marketing Management, Medical Marketing & Media and Advertising Age magazines over the past two years.
Following Pucci's talk, Dean Raylene Rospond will give the State of the College Address at 10:15 a.m. in Sheslow Auditorium and will also present the alumni awards. The 2007 Alumni Achievement Awards will honor Suzanne Sietsema Blackburn, PH'73, and Mary Walbridge, PH'74. The 2007 Young Alumni Achievement Award will recognize DeeAnn Wedemeyer-Oleson, PH'99.
Blackburn, of Eden Prairie, Minn., is senior vice president of strategic client and benefit services at Medco Health Solutions Inc. Walbridge, of St. Louis, Mo., is currently working on a BSN in the accelerated nursing option at St. Louis University and recently returned from a health mission trip in Nicaragua. Wedemeyer-Oleson, of Guthrie Center, Iowa, is director of pharmacy at Guthrie County Hospital.
From 11 a.m. to 2 p.m., Parents Hall North will be transformed into an exhibition hall featuring more than 20 health care providers and companies such as Iowa Pharmacy Association, Osco Drug, Safeway, Target Pharmacy and Walgreens. Students will also attend various mini-discussions led by CPHS faculty and pharmacy professionals.
At 3:30 p.m. in Upper Olmsted, student scholarships will be presented, followed by a dessert reception starting at 4:30 p.m.
"It's amazing how many changes have occurred in the past 20 years since the event's inception, and we're hoping to show students just how many opportunities are going to be available in the next 20 years," said Erica Pearce, a P3 from Omaha, Neb., and co-chair of Pharmacy Day.