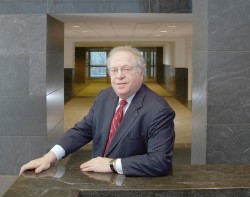 William R. Berkley
Berkley offers insurance insight at Drake
The College of Business & Public Administration showcased career paths in insurance at a special event Feb. 7. The keynote speaker was William R. Berkley, CEO and president of W. R. Berkley Corp., which operates Continental Western in Urbandale.
Berkley's speech, titled "Nature of Risk in the World and the Role Insurance Plays," addressed industry trends, the impact of Hurricane Katrina and insurance career opportunities.
W. R. Berkley Corp. was chosen as the best-managed insurance company of the year by Forbes magazine in the Jan. 8 issue. Founded in 1967, the Fortune 500 company is currently the country's ninth-largest property casualty insurance holding company and operates in all 50 states, with assets exceeding billion and annual revenues of billion. W. R. Berkley Corp. operates 31 units, 25 of which were internally built from scratch, encompassing five segments of the property casualty insurance business – specialty insurance, regional property casualty insurance, alternative markets, reinsurance and international.
Berkley has been chairman and CEO since the company's inception and became president and COO in 2000. During his career, Berkley has founded a number of public and private companies, some of which he continues to control. He serves as chairman or director of many of these enterprises, including The First Marblehead Corp., the leading private student loan company in the United States. He serves as chairman of the Board of Overseers of the Stern School of Business at NYU and is also vice chairman of the Board of Trustees at NYU. This past year, Berkley helped form the Berkley Center for Religion, Peace and World Affairs at Georgetown University.
Berkley graduated from NYU and received his MBA from the Harvard Graduate School of Business Administration. He was awarded the Medallion for Entrepreneurship by Beta Gamma Sigma in 1999 and received an honorary doctor of law degree from Mercy College.