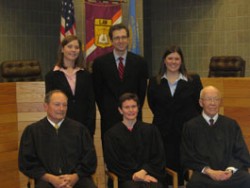 Emily Peebler, Christian Walk and Jill Link (left to right) stand with judges from the regional National Moot Court Competition.
CONTACT: Lisa Lacher, 515-271-3119, lisa.lacher@drake.edu
The Drake University Law School National Moot Court team finished among the top 8 teams out of the 28 teams that competed in the final rounds of the National Moot Court Competition in New York City last week.
The Drake team of Jill Link, Emily Peebler and Christian Walk advanced to the quarterfinals before losing to a team from Texas Wesleyan Law School. Link is a third-year student from Des Moines; Peebler is a third-year student from Robins, Iowa; and Walk is a second-year student from Des Moines.
"Considering the many, many law school teams that participate in this competition from across the country, finishing so near the top is another great accomplishment for Drake," said Law School Dean David Walker. "This is the 15th time in 17 years that one of our teams has earned a place in the National Tournament in New York City."
More than 149 law schools and more than 200 teams competed in the 14 regional competitions held in November. The top two teams in each of the 14 regions went on to compete in the finals.
"This year's team worked incredibly hard and performed exceptionally well. I could not have been more proud of their effort," said Laurie Doré, team coach and the Ellis and Nelle Levitt professor of law.
The Des Moines law firm of Whitfield & Eddy sponsored the team. The National Moot Court Competition, one of the oldest and most prestigious of its kind in the country, is jointly sponsored by the American College of Trial Lawyers and the Association of the Bar of the City of New York.