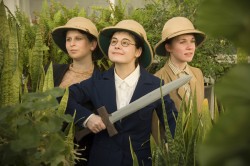 Starring in Drake's production of "On the Verge" are (from left) Dana Gustafson, Jackie De Witt and Erin Walkowiak.
CONTACT: Lisa Lacher, 515-271-3119, lisa.lacher@drake.edu
"I have seen the future, and it is slang," remarks one of the three Victorian ladies in "On the Verge." This is only one hint of the not-so-long but strange trip in store for the audience when Drake University Theatre performs Eric Overmyer's 1986 play beginning Thursday, Feb. 15, at 8 p.m. in Studio 55 of the Harmon Fine Arts Center' 25th Street and Carpenter Avenue. Performances continue through Sunday, Feb. 18.
Overmyer's play was described by critic Mel Gussow of The New York Times as "a frolicsome jaunt through a continuum of space, time, history, geography, feminism and fashion." It was the feminism that appealed to director Deena Conley, assistant professor of theatre arts at Drake.
"The play provides interesting and intellectual roles for women," she says, "and presents the trials and tribulations they've endured over the years in a humorous and touching way."
As they explore a mysterious rain forest, all the while recalling their trials and tribulations, the "sister sojourners" encounter artifacts from their future — our present — such as a car mirror with the curious phrase, "Objects in mirror may be closer than they appear." As they travel toward their final destination of Terra Incognita, the characters employ Overmyer's considerable command of wit and language to disseminate this discovery and others, and prognosticate on the human condition.
Drake is producing "On the Verge" by special arrangement with Broadway Play Publishing. Evening performances begin at 8 p.m., with matinees at 2 p.m. on Saturday and Sunday. Tickets are $5 for adults, $3 for senior citizens and non-Drake students and $1 with Drake ID. Reservations are recommended due to limited seating. For reservations, call the Fine Arts Center Box Office at 515-271-3841.