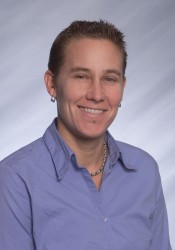 Jennifer Harvey, Drake assistant professor of religion
CONTACT: Lisa Lacher, 515-271-3119, lisa.lacher@drake.edu
Drake University invites the Des Moines community to come to campus Tuesday, Jan. 16, to celebrate the work and life of Martin Luther King Jr. by "Contemplating the Past, Understanding Resistance in the Present and Transforming the Future."
The celebration will start at 7 p.m. in Sheslow Auditorium in Old Main, 2507 University Ave. A dessert reception will follow in Levitt Hall. Both events are free and open to the public.
The Drake Gospel Choir and St. Paul A.M.E. Gospel Choir will sing. Jennifer Harvey, Drake assistant professor of religion, will discuss King's work and legacy. The Langston Hughes Players will present historical vignettes. Erica Austin, a junior from Springfield, Ill., will perform a praise dance. Spoken word presentations will be given by four Drake students – Maryn Bass, a junior from Kansas City, Mo.; James Bridgeford, a senior from Des Moines; Reggie Lee, a senior from Des Moines; and Sterling Shadd, a first-year student from Oak Lawn, Ill.
For more information, call Ericca Pollack at 515-271-3781.