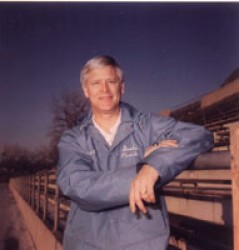 Bob Ehrhart
CONTACT: Mike Mahon, 515-271-3014, mike.mahon@drake.edu
Former Drake Relays Director Bob Ehrhart, 75, died of cancer at his West Des Moines home Sunday, Jan. 7. Funeral services will be held at 2 p.m. Thursday, Jan. 11, at Plymouth Congregational United Church of Christ, 4126 Ingersoll Ave., Des Moines.
Visitation will be held from 4 to 8 p.m. Wednesday, Jan. 10, at Brooks Funeral Care, 7975 University Blvd. in Clive.
Ehrhart retired as Drake Relays director Sept. 1, 2000, holding the longest tenure of any of the 11 Relays directors in school history.
Ehrhart, a native of Naperville, Ill., came to Drake in the summer of 1969, succeeding Bob Karnes as Drake Relays director and head track and field coach. Under Ehrhart's direction, Drake track and cross-country teams won nine Missouri Valley Conference championships, including six in indoor track, two in cross country and one in outdoor track.
He filled the position as Drake Relays director with distinction, watching the Drake Relays begin its string of 41 consecutive sellout crowds for the Saturday session — the longest string for any track meet in the world. Ehrhart was responsible for bringing several elite Olympic gold medalists to the Drake Relays including Jim Hines, Bruce Jenner, Michael Johnson, Carl Lewis, Rodney Milburn, Al Oerter, Calvin Smith, Frank Shorter, Gwen Torrence, Mac Wilkins and Dave Wottle.
The number of events at the Drake Relays expanded from 49 in Ehrhart's first year to more than 100. The number of college teams and participants also almost tripled from 2,763 athletes in 1970 to a record 9,185 entries in 2000.
In addition to countless meet records, 14 national collegiate marks, 13 American records and one world record were set during Ehrhart's tenure as Drake Relays director.
This fall Ehrhart was selected for the Howard Schmertz Lifetime Achievement Award by the USA Track & Field Meet Directors Association. He also was honored recently with the United States Sports Academy's Distinguished Service Award.
In Ehrhart's first year at Drake, the school hosted the 1969 Missouri Valley Conference cross-country championships, the 1970 Missouri Valley Conference indoor and outdoor championships and the 1970 NCAA Outdoor Championships. Presiding over his first Drake Relays in 1970, Ehrhart saw one world record and three American records set among the 15 Drake Relays records that were rewritten.
Other highlights during Ehrhart's tenure: Bruce Jenner producing the highest decathlon score in the world in 1975 (8,138 points); Steve Scott running the first sub 4-minute mile in 1979 (3:55.26); Texas A&M, led by brothers Curtis and Marvin Mills, setting a world record in the 880-yard relay (1:21.7) in 1970. Ehrhart also incorporated a women's team division, switched all running events to metric in 1976 and completed the metric conversion by rebuilding the track into a 400-meter oval in 1978, so that relay races could go metric. He oversaw the foundation of the stadium track restructured into a full pour world class Rekortan surface in 1999.
Ehrhart was a high school and college coach for 34 years, including 31 seasons in the collegiate ranks. The 1954 graduate of Northwestern University guided the track program at his alma mater for nine seasons before coming to Drake. In 1992, Ehrhart was named the first full-time director of the Drake Relays, stepping down as Drake's head track coach.
Ehrhart coached 23 all-Americans — 12 at Northwestern and 11 at Drake — including 1970 NCAA decathlon champion Rick Wanamaker and standout sprinter Kevin Little, a two-time all-American at both the NCAA Indoor and Outdoor Championships in 1989 and 1990.
Ehrhart coached 77 Missouri Valley Conference indoor track and field champions — the most from any coach in the history of MVC indoor track and field. He also coached 43 Missouri Valley Conference individual outdoor track and field champions.
He also coached 30 All-Missouri Valley Conference cross-country performers, including five MVC individual cross-country champions: Lynn Lee (1970), Boyd Nansel (1975, 76) and Vern Iwancin (1980, 81).
He served as a coach for the U.S. track team that competed in the 1989 World Cup track championships in Barcelona, Spain, and on the U.S. track team that competed against England in a dual at Birmingham, England, in 1985.
Ehrhart was president of the United States Track Coaches Association from 1983-85. Ehrhart has served as referee at a number of major track and field meets including the U.S. Olympic Sports Festival as supervisor of officials, the 1988 NCAA Cross Country Championships, the 1998 Big 12 indoor meet and the 1999 Big Ten Track Championships. He also assisted with floor management at the NCAA Indoor Championships from 1996-98, and was on the jury of the 1997 U.S. Indoor Championships, the 1998 USA Mobil Meet and the 1998 Big 12 Track Championships. Ehrhart also received the Distinguished Service Medal awarded by the United States Sports Academy in 1999.
He was an assistant coach for the North squad during the 1983 National Sports Festival and served as head coach of the North squad in the 1985 U.S. Olympic Sports Festival.
In 1984, Ehrhart presented a report regarding the administration of the Drake Relays to the Ninth International Congress that preceded the 1984 Olympic Games in Los Angeles. He also served as head manager of the U.S. track team in the 1993 World Outdoor Championships in Stuttgart, Germany.
He was inducted into the Iowa Association of Track Coaches Hall of Fame in 1992, and was honored in 1993 by the Iowa Association of Track Coaches for his state, national and international achievements in track.
Ehrhart entered the collegiate coaching profession in 1960, leading Northwestern to the 1965 Big Ten cross-country title, while later placing second in the national meet. He was honored by his alma mater in 1954 as Athlete of the Year. He was a four-time Big Ten pole vault champion at Northwestern and he shared the Drake Relays title in that event with three other vaulters in 1954.
HONORS:
2007 — U.S. Sports Academy Distinguished Service Award
2006 — Howard Schmertz Lifetime Achievement Award (USA Track & Field Meet Directors Association)
2004 — Missouri Valley Conference Coaches Hall of Fame Inductee
2003 — Drake Relays Coaches Hall of Fame inductee
1997 — Head Manager of U.S. Track & Field team in 1997 Junior Pan American games in Havana, Cuba
1993 — Head Manager of U.S. Track & Field team in 1993 World Outdoor Championships in Stuttgart, Germany
1992 — Iowa Association of Track Coaches Hall of fame Inductee
1989 — Coach of U.S. Track & Field Team at 1989 World Cup Championships in Barcelona, Spain
1984 – 85 — President of U.S. Track & Field Coaches Association
1985 — Head coach of North squad at 1985 U.S. Olympic Festival
1970 — Meet director of 1970 NCAA Outdoor Track & Field Championships
COLLEGIATE COACHING:
1969 – 2000 — Drake Relays Director
1969 – 1992 — Head track and field & cross country coach at Drake
1960 – 1968 — Head track and field coach at Northwestern