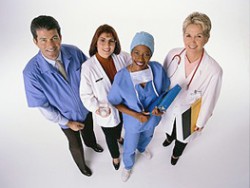 CONTACT: Lisa Lacher, 515-271-3119, lisa.lacher@drake.edu

Drake's College of Pharmacy and Health Sciences recently announced the launch of a new degree program that will allow students to earn a Bachelor of Science in Health Sciences.
Starting next fall, incoming students can opt to enroll in the new four-year degree program. A degree in health sciences will act as a catalyst for students who want to pursue careers in health care-related fields — including jobs that are clinical, administrative and research-based in nature.

The interdisciplinary curriculum combines coursework in the biomedical, pharmaceutical and clinical sciences as well as health behavior and business and health care management. Students will take a four-semester course sequence called Issues in Health Sciences, which will provide an overview of health science professions and the health care system as well as explore relevant issues and controversies.

Starting their second year, students will choose to pursue one of three tracks: clinical and applied sciences, health services management or pharmaceutical sciences. Within each track, students can choose courses among an extensive list of science electives. During their senior year, students will have the opportunity to gain practical knowledge with a rotation-like or research experience.

The concept behind the program was generated by incoming students' increased desire to pursue careers in the health sciences. In fact, over the past couple of years, students taking the ACTs have consistently marked allied health sciences as their no. 1 interest. "All of the sciences are hot right now," said Renae Chesnut, associate dean of academic and student affairs.

Drake's Board of Trustees approved the degree program last April, and the program currently has more than 150 applications for the fall 2007 term. Building on the success of the existing Bachelor of Science in Pharmaceutical Sciences, the new program expands flexibility for interested students.

"There appears to be a great demand for the degree," said Bob Soltis, department chair of pharmaceutical sciences. "The program opens a lot of doors for both faculty and students."
For more information, check out http://www.pharmacy.drake.edu/.